Cricket is not only a sport but also a way of life. It is perhaps one of the most popular sports around the world after football. If you are someone from the Asian sub-continent then you would know how important this game of cricket is. In countries like India, cricket is a religion. It is loved by everyone regardless of their age and gender. If you are searching for some best cricket quotes to use for your instagram, Facebook or WhatsApp or just to share with friends, then you have come to the right place. Our team has carefully compiled some of the best quotes on cricket for all the cricket fans around the world.
Best Cricket Quotes
1. "Without any motion or movement, there is no life."
2."The Bat is not a Toy, it's a Weapon."
3. "Self Belief and Confidence will always earn you success."
4. 
"You can cut the tension with a cricket stump."
5. Cricket is battle and service and sport and art.– Douglas Jardine
6."Cricket to us was more than play, It was a worship in the summer sun." – Edmund Blunden (Poet)
7. "No matter how hot the fire burns, a protea always survives." – AB Devilliers
8. "I have three dogs at home. Even after losing a series or winning a series, they treat me the same way."

9."I have failed at times, but I never stop trying." – Rahul Dravid
10. "Nothing is easy in cricket. Maybe when you watch it on TV, it looks easy. But it is not. You have to use your brain and time the ball."
11. "There are things we control – but things that are not in control, no point wasting time and energy into that."
12. "Every time you play for your country, there is responsibility. But when you are captaining, you can say so; you have to lead from the front and make sure the team follows the direction you want them to." – Cricket Quotes
13. "Every first-class season is important; every game is crucial, irrespective of whether you are in the Indian team or not." – Cricket Quotes

14."A wise man learns by the mistakes of others, a fool by own."– Adam Gilchrist
15. "Sometimes it's important to get out of that comfort zone and, I think, try new things, and sometimes you can express yourself better."
16. "I don't play for selection honestly, My job is to score runs and that is what I focus on." – Cricket Quotes
17. "You need to realize that you must have something to aim for, something to drive you."
18. "There is a place deep inside every single one of our hearts that knows all the answers to our biggest questions."

19. "There were times when chemo would eat my body, but I told myself that I have the strength and courage to win and come out stronger."
20. "Cricket is a team game. If you want fame for yourself, go play an individual game."
21. "I was always fiercely determined and driven to succeed." – Ricky Ponting
22. "A small country like Israel has compulsory military training. But countries like India, that are so much bigger, have no compulsory military training, so people don't understand how the military functions. They have no knowledge of how it works, no respect for it."
23. "I am a great movie buff, and I devour films regularly."
24. "Once upon a time Cricket Was My Reason For Living."
25. "Cricket Is Life… Everything Else Is Just a Game."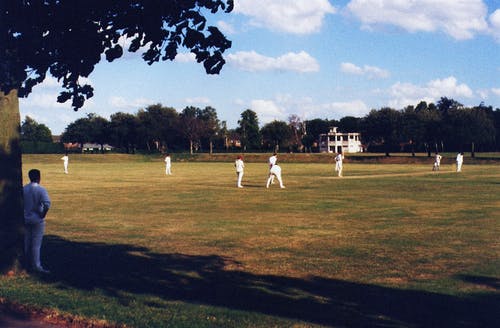 26. "Sometimes in Life You have to Duck the Ball."
27. "Cricket is not only my passion it's my Life & Attitude." – Best Cricket Quotes
28. "Life is like Cricket Take Infinite Wickets and Face the Pace to Win the Race."
29."When people throw stones at you, you turn them into milestones."– Sachin Tendulkar
30. "When you are fit, you feel as if you can do everything." 
Inspirational Cricket quotes for Instagram and Whatsapp
"It is far more than a game, this cricket."
"Serious cricket is war minus the shooting."
"Sure, luck means a lot in cricket. Not having a good fielders is bad luck."
"You can cut the tension with a cricket stump."
"You don't play for the crowd. You play for the country."- Mahendra Singh Dhoni
"Cricket is a most precarious profession; it is called a team game but, in fact, no one is so lonely as a batsman facing a bowler supported by ten fieldsmen and observed by two umpires to ensure that his error does not go unpunished."
Famous Cricket Quotes by some of the Greatest Cricketers Ever.
"The key to handling pressure is to enjoy it when you're confronted with it rather than worry about it too much."- Steve Waugh
"My first bat was shaped of a coconut branch. And from that day, all I wanted to do was be a cricketer."– Brian Lara
"Cricket is the only sport in the world where you are absolutely horrible at something and you still need to go out and do it."– Harsha Bhogle
"I am jealous of my parents. I will never have a kid as cool as theirs."– Chris Gayle
"The true test of any cricketer's character is how he reacts when the going gets tough, when it's time to dig in."– Michael Holding
"If it's difficult, I will do it now. If it's impossible, I will do it presently."– Don Bradman
"You're always going to be criticized to a degree. Some people didn't like Mother Teresa as well."-Brendon McCullum
"Cricket is the most important thing to me, so rest pales in comparison."– Virat Kohli
"I'm convinced things will go much better if the players smile and have some fun on the field, rather than acting like wound-up spring."– Jonty Rhodes
"Concentration's like a shower, you don't turn it on until you want to bathe. That was cricket for me."– Sir Garfield Sobers
"Compromise for your dream but never compromise on your dream."– Imran khan
"I have failed more times than I have succeeded, but I never gave up, and will never give up, till my last breath, and that's what cricket has taught me."– Yuvraj Singh
"I used to lie awake at night, willing myself to put in the hard work, the determination, the passion." – Kevin Pietersen
"Actually nobody can be perfect in cricket. Everybody makes mistakes. It is important to learn from your mistakes and correct them."– Kumar Sangakkara
"First of all, convince yourself that you are the best because the rest of your life is going to go proving this to others."– Wasim Akram
"My job is to perform, enjoy cricket and thank God for whatever he has given me."– Suresh Raina
"There was a legacy before I came in, and it was my job to take the baton and make sure I held it tight and ran like hell."– Sir Vivian Richards
If you're good enough, you don't need to say anything to win. – Curtly Ambrose