At BrilliantRead Media, our aim is to bring to our community some of the unique and compelling stories from the start-up ecosystem. As part of this endeavour, we invited yet another passionate entrepreneur – Bhavin Bhavsar, for an exclusive interview with us. Bhavin is a

 seasoned entrepreneur and business leader with 20+ years of experience. He is also a Mentor and a Keynote Speaker.

 Let's learn more about his inspirational journey and his advice for our growing community!
Excerpts from our exclusive interview with him

:
Talk us through your background and your journey as an entrepreneur, please;
Being honest, my early years during my school time and graduation were quite similar to an average boy. I did my schooling from Mukta Jivan High School and completes my graduation from Prabhudas Thakkar College in Commerce. But, the one thing that differentiated me from others was my curiosity and my constant urge to upgrade my knowledge.
The internet boom had come around the same time and this caught my attention. But little did I know then that this would be the field in which I would build a thriving career for myself. Today as I look back, I too started with ordinary things like taking up a regular 9-5 job, but then, there was always this itch to do something out of the box. That's when I decided to quit a satisfying job in the pursuit of my passion, which was Digital Media Marketing."
It has been almost two decades now that I am into this segment and I am quite impressed by the way things have been till now and this segment especially has become so much of a necessity these days. Alongside this, I also started off on my journey to become a Travelpreneur. Being the founder of the Solo Travellers Meet Community, today we are a global family of around 5000 solo travellers around the world and gather at places around the world a couple of times a year and share our travel stories.



Why did you choose entrepreneurship over a corporate career?
Well, as I mentioned I always had this urge to keep upgrading myself and do something different and carve a niche for myself.
Though you get numerous opportunities in a corporate career, at the end you are always fulfilling someone else's dreams. I did not want that. I wanted something to call of my own, my brainchild, my baby."
So that was the idea when I started STM. The digital marketing, as I mentioned, was the 'in thing' at that time and that was when I asked myself, 'Why Not?'.



Please share with us some of the challenges you faced in your journey;
The road to success is never a cakewalk. The initial hurdles and problems were always there to deter me from starting on my journey. My family, in fact, asked me the same question, why risk things when you've got a decent paying job. My father was quite against me deciding to become an entrepreneur giving up on a regular employee life. As this domain was also a never before the thing, learning the intricacies of the 'art' was also a challenge. I started on this journey with very less number of people who believed in me and my vision. Getting to people, making them aware of your product and services, having an edge over my competitors, these were the initial few challenges I believe that I came across in my journey. 



What is your Business Mantra: Money or Emotions?
More than these, I have been keener on believing in my people. So yes, I believe if you give people a dream, a vision, and the flexibility to do things. You give them your trust, that works more than any business mantra and definitely more than the choice between money and emotions.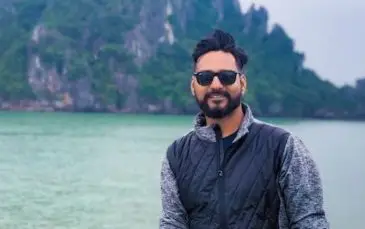 How do you handle the pressure and manage stress?
When you stick to something that you love, you find ways to manage pressure and stress. I wouldn't say you don't feel pressure and stress, no, that would be delusional. Let's be realistic here if you want to achieve something, stress is required and it sometimes becomes the much-needed push. Some of us we've worked under terrible pressures. I believe finding a way to channelise these pressures can help growth. I do usually take my breaks and being also a Travelpreneur I believe sometimes I also escape the pressure and stress by disconnecting from work and travelling to new locations where I can actually be by myself and relax.
What has worked well for you so far?
I think my constant need and will of upgrading myself in the game and the zeal to have an edge over my competitors had made me strive to achieve the best results for my clients which in turn has made me and my business grow and has been one of the most important factors that have kept me up and going till now.
In your opinion what are the keys to success?
Passion and Self-Belief, I think these two can be defined as the keys to success if you ask me. I have lived my life based on these two keys and have really surprised myself in terms of my achievements just because I did not lose my faith in myself and kept hanging on to the things I was passionate about.
We would love to know your advice for all those starting out as an aspiring entrepreneur?
For all those aspiring entrepreneurs out there, my word would be is to not let o of the belief in yourself. There would be obstacles, hurdles, challenges coming in the form of resistance, disbeliefs, demotivation and many more from people you are close to, your friends, your family, your loved ones. But let that not deter you from taking that leap of faith. A single hand that supports you, that pats your back is important and count on that single hand and your self-confidence and you should be able to reach your potential.

Given the rapid pace at which the world is changing, what are the leadership traits that are necessary for success?
I think adaptability and work ethics are the major two factors that can help you keep afloat even in the worst of storms. If you are able to adapt to the quickly changing environment and the situations around you, I believe you'll be able to sail through whatever comes. And work ethics, I believe, a person who cannot stick to work ethics cannot stick around for long. So yes, I think these are amongst the most important leadership traits necessary for success.
What are the business mantras you have embraced as you sought to establish your success story?



I believe there is only one mantra or rather a key to success, that is Passion. If you are passionate about it, there is nothing that can stop you. Be it your career goals or your life goals, being passion-driven and believing in your capabilities eventually gets you there. There are pitstop sand downfalls, but nothing should stop you to get to your destination.
During this COVID-19 crisis, what are the measures you have undertaken to continue your business without disruption?
In these times when we are seeing that everything has turned towards the virtual realm and the digital zone, I think this is the beauty of our business which works on the digital platform. Being a Digipreneur, I believe it has given us as in the IT people an edge over other businesses as most of our work is handled over the virtual world. The .com part we just had to minimise the personal contact which was actually bare minimum to the real zero. Apart from this, I don't think we have had to take any grave steps that would in either way tamper with our way of working or hamper our productivity. 
Follow Bhavin At:
LinkedIn

–  https://www.linkedin.com/in/bhavsarbhavin/
Facebook

– https://www.facebook.com/bhavsarbhavin
Instagram

– https://www.instagram.com/travelwithbhavin
Website

– https://www.bhavinbhavsar.com
---
BrilliantRead is committed to bringing stories from the startup ecosystem, stories that reshape our perspective, add value to our community and be a constant source of motivation not just for our community but also for the whole ecosystem of entrepreneurs and aspiring individuals.
Note: If you have a similar story to share with our audience and would like to be featured on our online magazine, then please write to us at [email protected], we will review your story and extend an invitation to feature if it is worth publishing.