At BrilliantRead Media, we always strive to bring meaningful and powerful stories from India and around the world to empower and motivate our growing community. As part of this endeavour, we invited Dr Deepali Mathur for an exclusive interview with us. Dr Deepali is a Medical Practitioner, Life Transformation and Mindset Coach, Mind Body Soul Healer, Energy Enthusiast, Pranic Healer,Passionate Entrepreneur and Change Enabler. Let's learn more about her incredible journey, background, and advice for our growing community.
Excerpts from our exclusive interview with Dr Deepali:
We are aware of your contributions to the ecosystem; talk us through your background and your journey, please.
I am practising as a medical doctor for almost 20yrs now and have seen lots of hard and tough realities of life, as a part of this profession.
After passing my MBBS, I was fortunate enough to work with some of the big hospitals of Delhi, where learning new professional skills and life skills came in very handy. 
Presently, I am working on a National Program, focusing on women and child health for more than a decade and continuing my general practice as well.
Over the years, I have learnt techniques of Energy Healing. I am also a Pranic Healer and have done different levels of it."
Now I am on this new journey of being a Life and Mindset coach guiding people who feel stuck in any area of their life, may it be Career, Relationship, Finances or Health and helping them achieve balance and abundance in their life through a very scientific and result-oriented program.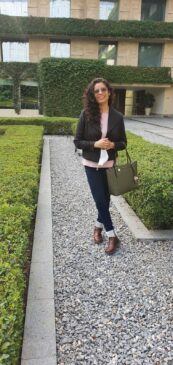 How did you discover your passion as a 'Coach'?
Oh, I like this question!!
So, over all these years I was not only treating my patients at physical level but was also reading their mindset and emotional well-being.
And then I realised that their issues are not only physical but have a deeper connection to their inner state.

Stress has become an integral part of our society and each person can resonate with this word "Stress" in some area of their lives."
That's when I learnt about Energy Medicine and got into Pranic Healing which heals you at the energy level and helps you solve your physical, emotional, financial and relationship issues!!
But my quenching for learning wasn't satisfied here. So, I learnt about Life and Mindset Coaching and experienced a marvellous self-transformation journey.
Life and Mindset coaching is all about changing a person's perspective towards life, releasing their deep-seated Belief System at the subconscious level, and empowering them with a new vision for a better and abundant life."
And now my mission is to transform hundreds and thousands of lives at the Mind Body Soul level…!!!
How do you manage to keep going despite the challenges? What drives you?
I have been brought up by my parents in a way that gratitude and a positive outlook is like my tool for life. So whatever may come, I am still thankful for this beautiful life that God has given me. Somehow, I always feel that I have a purpose to serve on this planet. Every challenge is learning. 
The real testing phase of my life was in years 2016-2021.
During this phase, within a span of one and a half years, both my parents were diagnosed with terminal-stage carcinoma, My life was shattered. My parents were my weakness (I am the kind of person who was extremely attached to my parents. People who know me would understand this).
Now I had to be their strength. During this time, they both underwent multiple surgeries and were struggling with the side effects of chemotherapy. This was also the Covid time, and I was loaded with responsibilities at the work front.
Managing my personal and professional life, was a real-life challenge. I was with them till their last breath in the year 2021 and did my best for them. Even in their last days, they kept motivating me saying that 'Life Goes On' irrespective of anything.
They always focused on the brighter side of life. The values given by my parents, their love and blessings acts like a shield for me, forever…
Who do you believe has been the biggest source of motivation in your daily life?
The fact that each day is a new day and we can make it 'Our Day' is the biggest motivation. I start my day with gratitude to the Universe, for giving me this opportunity to bring a change in people's life.
My family has been my biggest support system. My parents, sister, my in-laws, husband and my kids have always been by my side, encouraging me and helping me in my endeavours.
My mother was a very positive and spiritual person, and she has always taught me to believe that whatever is happening is for a reason and for our own good.
Keep putting in your efforts. If it works out, great…!! If it doesn't, it's even better because it means God has better plans for you!!!  So always look at the bigger picture in life and keep moving. One day you'll make a big leap…
What are some of the strategies that you believe have helped you grow as a person?
My belief in myself and God, has kept me going even in the toughest times. The year 2021 was one of the toughest years of my life when I lost my father and mother to cancer and my father-in-law to Covid.
The month of April 2021 (Covid second wave) was a nightmare, when my husband was sick and hospitalised, my Mother in law and daughter were isolated at home and Father in-laws sudden demise from Covid, all happened within 24hrs. Life changed instantly."
I didn't sleep for 10 nights at a stretch, which now looks fairly impossible. But my meditations, breathwork, energy healings gave me this extraordinary strength to bear this all.
One needs to be humble and spread positivity in their surroundings.  We constantly need to watch our thoughts, because our thoughts create our feelings, feelings create our actions,our actions create our habits and finally, our habits create our destiny… so watch out guys.
You are always positive and motivated, what keeps you going?
I love to stay energetic and enjoy life to the fullest. A few of my daily activities that keeps me motivated and positive are;
> Eating healthy food 
> Drinking plenty of water
> Maintaining my exercise, meditation, and yoga routine, 
> My gratitude and forgiveness practice 
> Staying away from negative people, negative surroundings, and negative content.
> Reading good self-help and motivational books
> Listening to nice music 
> Regularly attending sessions and classes to brush up my knowledge.
> Spending quality time with my family 
> Cooking and experimenting with fusion food 

In your opinion what are the keys to success?
– Self-love
– To keep yourself in learning mode and take inspired actions
– To remain grounded
– Listen to inspirational stories of successful people 
– Taking baby steps towards your goal
– Keeping oneself in high energy and motivated 
– Mindfulness and Awareness 
– Helping the ones in need.
– Taking responsibility for your actions 
What advice would you like to give to students and young professionals who want to have a successful career?
I always say consistency and smart work is the key. There are low phases in life but those who stand up and restart their journey are the ones who achieve victory.
There are no failures in life, it's either you succeed or you learn a lesson. No failures. So that should be the mindset.
Also, I emphasise a lot on emotional education. Our new generation is emotionally vulnerable. Strong family bonds and genuine relationships are the need of time. People want to share their emotions, feelings and experiences without being judged. And that's where I help as a Life Coach..!!!
So any of you reading this and can resonate with it, you are most welcome to chat with me and I'll help you out.
Follow Dr Deepali At: 
---
BrilliantRead is committed to bringing stories from the startup ecosystem, stories that reshape our perspective, add value to our community and be a constant source of motivation not just for our community but also for the whole ecosystem of entrepreneurs and aspiring individuals.
Note: If you have a similar story to share with our audience and would like to be featured on our online magazine, then please write to us at [email protected], we will review your story and extend an invitation to feature if it is worth publishing.