At BrilliantRead Media, we always strive to bring meaningful and powerful stories from India and around the world to empower and motivate our growing community. As part of this endeavour, we invited Dr. Nadhia for an exclusive interview with us. She is an Entrepreneur, Leader, Skincare Coach, Consultant, Mentor and Change Enabler. Let's learn more about her incredible journey, her background, and her advice for our growing community!
Excerpts from our exclusive interview with Dr. Nadhia

:
We are aware of your contribution to the ecosystem, talk us through your background and your journey, please;
My path to dermatology began at the age of 8. As a kid, I was always extremely conscious about my skin and always wanted good skin, but I realised it often doesn't work that way.
As soon as I completed my Graduation in Medicals, I choose Dermatology as I was very passionate about it. Now after 7 years of experience and presence in this domain, I have developed strong expertise in each and every category whether it is the use of injectable/non-injectible/non-invasive treatments.
Since 2019, I am consulting patients online and offline as well across the globe. My aim is to help my clients get healthy glowing skin and solve their skincare-related problems. I am glad that I have thousands of happy and satisfied clients all over the world and it is growing significantly.
How do you manage to keep going despite the challenges? What drives you?
Since my school days, I have been practising yoga and I love fruits. I guess these two habits of mine have supported my health a lot throughout. But my mind gets confused and frustrated a lot many times for which only 2 things help, either I need a long conversation with my brother who has been my pillar of strength always or I need to lock myself and paint for a while.
I can say that painting is yoga for my mind."

 
What is your advice for those who want better skin but don't use anything for their face or skin care? Do we need a skincare expert to manage it better?
Yes, the one I get to hear very often. "I don't use anything on my face, still I get this problem". I wanna shout it loudly to everyone who is concerned about skin – not using anything is not a good practice.
Dust, UV rays, Stress and many other factors are deteriorating your skin on a daily basis. So you need to use appropriate products to reduce or stop the damage.
I feel when we invest so much in our personality and wardrobes, Why can't we invest in our skin?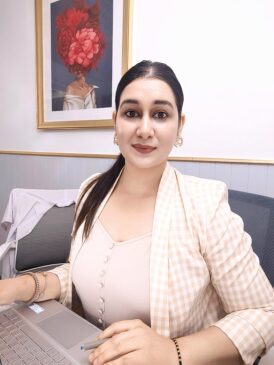 Injectables, fillers, Botox, permanent makeup, etc are effective in managing skin damage, what's your advice about these treatments and how good are these?
With every passing year, we expect more advanced technology in everything that surrounds us then why not in the Cosmetic world.
Treatments like botox, fillers and HIFU are effective ways of delaying ageing skin signs and I totally favour them.
I strongly feel when we invest so much in our wardrobe and other things then it's even better if we can keep wrinkles and fine lines away for a while.
As far as Permanent makeup is concerned, I am half in and half out of it because everyone can't get it done. Your skin barrier has to be perfectly in place and there are some other factors as well that should be considered before opting for such blading treatments.
What are the tips/advice for anti-ageing for both Men and Women?
Anti-ageing tip for men & women. Anti-ageing skin care has 2 major pillars, Hydration and cell turnover.
For well-hydrated skin, adequate fluid intake, electrolyte balance and topical moisturizer are the main factors. For cell turnover, Retinol (vitamin A derivative) is the best agent.
What goes in the stomach appears on the skin? Is that true? Should people stop eating their favourite foods/sweets?
Lol! No. Whatever you eat is not going to your skin, it's going to your stomach. I would take an example of acne on oily skin type.
I come across a lot of my fellow dermatologists who stop their patients from eating dairy products and sugar in any form as they believe it triggers acne.
To some extent I agree but if the need to stop eating all of his favourite items and what is the point of visiting a dermatologist.
I have been treating 100s of acne patients but I never stop them from eating anything. I modulate their lifestyle as per their convenience. Excess to everything is bad; so let's limit it… Why stop it?

How do you manage to multitask? How do you keep yourself motivated despite all odds?
Trust me! It's not easy but after a while, this difficulty becomes a routine. No one forced me to go out and work, it was my own decision to have a kid and continue my career also. So, I have to manage several things to make it work.
There are also days when i feel like quitting or am too tired to get up for work next day but then after so much of effort I have a feeling of contentment which keeps me going."
So in short, these challenges have become a routine now. When you have a toddler at home but you have to go out to work and even while at home you are working most of the time, then it's not an easy task to manage with ease.
My motivation comes from the look of confidence and faith that I see on my husband's face every time I am stuck somewhere. He has been the pillar of support for my abilities ever since.
In situations where I feel low or underconfident, he is always by my side saying "if you can't do it, I don't know who can". I must say, am blessed with the best.
Follow Dr. Nadhia At:
Instagram

– https://www.instagram.com/a_skin_mom/
Facebook

– https://www.facebook.com/profile.php?id=100073261714972
LinkedIn

– https://www.linkedin.com/in/nadhiar/
---
BrilliantRead is committed to bringing stories from the startup ecosystem, stories that reshape our perspective, add value to our community and be a constant source of motivation not just for our community but also for the whole ecosystem of entrepreneurs and aspiring individuals.
Note: If you have a similar story to share with our audience and would like to be featured on our online magazine, then please write to us at [email protected], we will review your story and extend an invitation to feature if it is worth publishing.