At BrilliantRead Media, we always strive to bring some of the meaningful and powerful stories from around the world to empower and motivate our growing community of entrepreneurs, influencers, management students and aspiring individuals. This week, we invited Elinor Moshe for an exclusive interview to know more about her inspiring journey and the way forward. She is an Impactful Speaker, Thought Leader, Mentor, Podcast Host of Constructing You and Founder of The Construction Coach. Let's learn more about her interesting journey and her advice for our growing community!
Excerpts from our exclusive interview with Elinor

:
Talk us through your background and your journey as a women entrepreneur/mentor.
I am an ambitious and driven leader and dedicated mentor in the construction industry. My passion is to guide, assist and direct future leaders and industry professionals to propel their career which ultimately leads to my founding of the successful platform, The Construction Coach. I have been featured in the Australian National Construction Review, Property Council of Australia's Top 500 Women in Property program 2019, Top 100 Women in Construction, and am frequently a speaker and panelist, including guest lecturing for the University of Melbourne and RMIT University. I hold a Master of Construction Management and Bachelor of Environments from the University of Melbourne. As soon as I graduated I began doing a lot of speaking for universities and professional associations around careers in construction; it is what I would always be approached for. The Australian construction industry is complicated to navigate and there was a lack of credible, holistic resources available to propel one's career in it. And in the short time that I have been in the industry, I had achieved more than some do in ten years! People wanted to know how I did it, and so I began the journey of being in the mentoring business.
Over the past year, I have been on the steepest learning curve than ever before. Business is exciting, not just because of what the business can achieve, but who you become in the process. It's extremely expansive and transformational. It's just exciting."
What's your experience in both entrepreneurship and a corporate career?
The corporate world doesn't do well with individualism, on the whole. It institutionalizes people; all too often people lose their identity and attach it to a company, or their job title, and corporations need you to act and perform a certain way. And people do need to understand that their salary is the extent of the remuneration that will come in – for a year.

It is very risky to be solely relying on your employer for your main stream of income; it gives them total agency over your livelihood. This is all in total contrast to setting out on the entrepreneurship journey."
I see it as the chance to solve problems, whilst creating impact and income. It's being able to master many different arenas – from marketing to psychology, business, sales, everything. The growth that you get when you set out on this journey is exponential, and you really get to see what you are made of. People always say that entrepreneurship isn't for everyone, but no one really challenges if a corporate career is for everyone. Once you realize that in the entrepreneurship arena there is no ceiling to what you can do, it is challenging to fit back into the corporate box. 
Where did the idea to start something like this come from? Please share with us your journey to date;
One year ago I founded The Construction Coach, which is Australia's first Construction Coach! I guide, inspire, and direct future leaders and industry professionals to achieve more recognition, higher compensation, and faster career progression through practical tools, insights, and structured development programs. Before I started TCC, I was tutoring students and graduates in construction after I graduated from my Master's in Construction Management. Very quickly the conversation would turn from the technical to the mentoring, and I realized there were commonalities in their experiences. So I asked a better question: how can I reach more people?
The universe then downloaded the idea into me, and I was up until 5 am that morning setting up my website, filling a notebook with ideas, and registering my ABN. About a month later I launched, and it just propelled from there."
Fast forward a year, I have had multiple sold-out premium events, masterminds, full-day workshops, private clients, and a chart-topping podcast, Constructing You. I am also in the process right now of publishing my first book, Constructing Your Career! I realized that for the construction industry, the career intelligence and industry insight is extremely fragmented, which is why career development is really lacking. It's my duty as a leader to make my community think and see clearly now, which is what I do through all my services. It was because I stepped into my purpose and passion that it kept on unraveling for me, which is why I am on the thought leadership journey. The most rewarding one of them all. I'm only just getting started.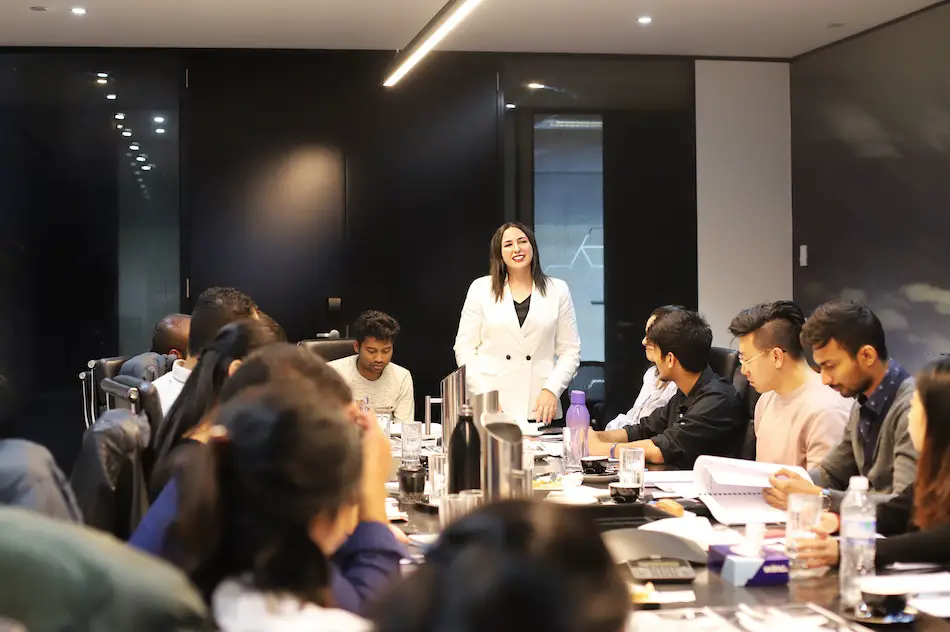 Please share with us some of the challenges you faced in your journey;
The biggest battles are always internal ones. It's the conversations that you have with yourself over the journey, which range from doubt, being overly critical, and sometimes letting fear infiltrate. But over time, I have learned to quieten all that down, and definitely not tie any emotional energy to that as fuel. Every time you step out of your comfort zone, the head trash comes up, but it's quieter, and it definitely doesn't stop me in my tracks like it used to.
It's also been a process of failing forward. When you're setting off into new arenas, you don't know what you don't know – until you know it! It's a constant process of discovering what I need to know, how to make it work, and how to piece it all together into a very well run machine which is the business. Failures and stuff-ups are going to happen, but it's being able to learn from them and move forward, fast.
It's an ongoing challenge, but as soon as you put yourself out there, you're opening yourself up to criticism, haters and negative people. It's part and parcel with having raving fans and massive support. I realized that the only people who will ever criticize me are doing less than me. Whilst it can still sting, it doesn't stop me. If anything, it just lights the fire even more. But it is this critique from people behind a computer screen which can stop people from spreading their message and doing what they need to do. At first, it can be shocking what people say, but again, it's a challenge that is overcome by having persistence, resilience, and knowing what you're here to do. It's a big part of my personality to naturally have little to no consideration of what other people think. I will never hold other people's opinions that don't have a vested interest in my success above my own.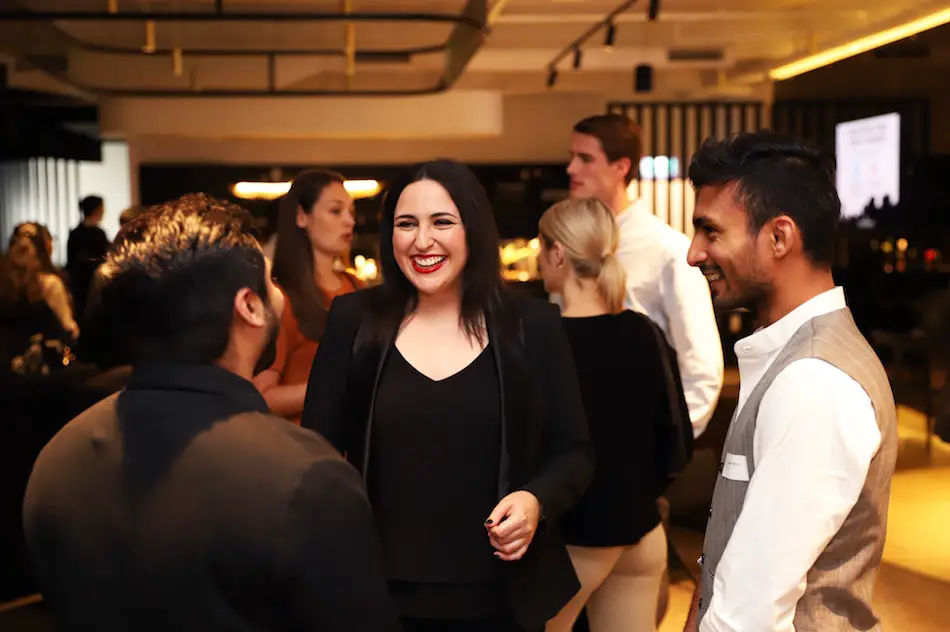 What is your Business Mantra: Money or Emotions?
I am a mentor to my clients, so I really do deeply care about their dreams, aspirations, fears, and challenges. This doesn't mean that I accept excuses, laziness, or apathy. I care about making sure they do what they need to do under my guidance to achieve what we set out to. I want to see them win. The money is a by-product. In the thought leadership model, commercialization comes last. People don't care about you unless they know that you care.
How do you handle the pressure and manage stress?
This is my natural state. I am a high-performance individual, and can easily manage multiple priorities; it doesn't phase me. I am also very efficient, time-sensitive, and know that in the process of building something greater than myself, I don't have the luxury to procrastinate. It's important to have effective time management strategies and know what you are and aren't available for. In times of great pressure, nonetheless, I always look to my future and understand why I am doing what I am doing, so I never give up on it. I also work in seasons of flow, I don't believe in balance. There are months and months that I can work, with at ease, but I recognize that every so often I need a day or two to recharge so I can go again. Plus, I take enjoyment from the work because I see the growth and results, for myself, and for my clients – that energizes me, it doesn't stress me! What growth happens from comfort zones? None. Diamonds are made under pressure.
What has worked well for you so far?
The best thing that I could have done to propel my success is to work with a mentor who has the results that I desire. If there is one thing I will always bank on and invest in, it's myself. So when I first came across Ron Malhotra along with an opportunity to work with him, I trusted my instinct and went for it. Borrowing the experience and insight from others is the most proven way to move fast towards your goals. I am very time-sensitive, so I am happy to do what it takes to accelerate the process at any cost. The money I can make, the time I cannot. If you do not invest in your own development, you will stagnate and become outdated, fast. I'm sure that's not what you want.
In your opinion what are the keys to success?
First and foremost, it is understanding what success actually looks like and means for you devoid of any external influences. You cannot attain something that you cannot clearly define, nor articulate. Then it's about having an obsessive and linear focus on only the work and activities which will bring you closer to achieving your success. There is a lot of mindset work associated with earning success and then multiplying it. Success is not a natural state to humans, and once attained, you want to keep it, and not self-sabotage and dispose of it. Having a formative relationship with success is imperative to have it in the long-term.  
Given the rapid pace at which the world is changing, what are the leadership traits that are necessary for success?
I am a thought leader, so I don't follow the conventional connotations of a leader. The world needs thought leaders to first and foremost challenge, expand and transform the way people think, which in turn works to shifts their feelings, then their actions, and then their results. Thought leadership is also heavily centered on first leading with who you are, which has ultimate importance in the social age we are in. What matters most, is who you are, and knowing yourself intimately on the macro and the micro. People follow people, not titles, and external markers of success. So we really need authentic thought leaders to resolve the issues that plague society today.
What are the business mantras you have embraced as you sought to establish your success story?
It's a mantra that I have always carried, and it is this: the best way to get ahead is to get started. It's always been within me to excel and achieve more and by default get ahead. And the only way to do this is to get started! It's the saying that has always given me the impetus to move past my head trash and get down to business.
For as long as I can remember, my dad has instilled this saying in me too: go and tell no-one."
So I never reveal my plans as they are happening. I work in silence, and I show up with the results. You'll only know my next move when I'm already on the next one.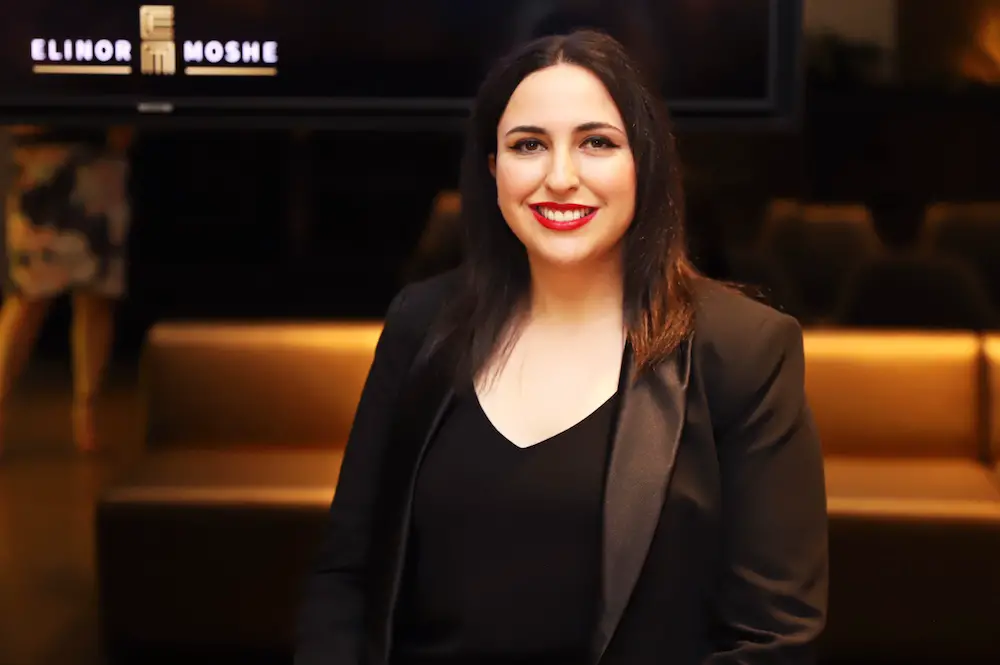 We would love to know your advice for all those starting out as an aspiring women entrepreneur?
Male, female, or otherwise, the advice is the same. If you have an itch, an idea, a problem you feel needs solving and you are the one to do it – go for it. There will be ample people along your journey that will tell you all the reasons why you can't or shouldn't, but don't listen to the advice and opinions of people who haven't been where you would like to go. It typically comes from friends and family in the first place, which can hold people back. However, they're operating from their world view and are only doing what they think is best, but it doesn't mean that's the case. When you're starting out, head down, get to work, and ignore the negativity. You've got to get to business.
Follow Elinor At:
People Also Read – Interview with Dr. Marija Ryge | Global Influencer | Health Consultant | Keynote Speaker
 ————————————————————————————————————
BrilliantRead is committed to bringing stories from the startup ecosystem, stories that reshape our perspective, add value to our community and be a constant source of motivation not just for our community but also for the whole ecosystem of entrepreneurs and aspiring individuals.
Note: If you have a similar story to share with our audience and would like to be featured on our online magazine, then please write to us at [email protected], we will review your story and extend an invitation to feature if it is worth publishing.