At BrilliantRead Media, we always strive to bring meaningful and powerful stories from India and around the world to empower and motivate our growing community. As part of this endeavour, we invited Mridhuvani Manhas for an exclusive interview with us. Mridhuvani is a Leader, Educator, Energy Healer, Mentor, Coach and Change Enabler. She is the Founder of VICTIM TO WARRIOR MINDSET MOVEMENT. Let's learn more about her incredible journey, her background, and her advice for our growing community!
Excerpts from our exclusive interview with Mridhuvani:
Could you please talk us through your background and your journey?
After my M.Com from Jammu University in Jammu and Kashmir. I appeared in the J&K Administrative Services Exam under the Public Service Commission and got through 2 levels of preliminary and mains but could not make it through the interview.
I was extremely disappointed with the result because inspite of so much hard work, I could not make it.
But I did not give up and joined B.Ed. After completing it, I again appeared in the competitive exam for the post of Lecturer of Commerce in the School Education Department, under the J&K Public Service Commission, and this time I made it. Thanks to my determination and hard work.
At present, I am working as a Senior Lecturer of Commerce Under School Education Department of J&K Govt.
With over 15 years of experience in Commerce education, I'm fervently dedicated to using the art of writing to uplift and empower distressed women, nurturing their self-development and journey towards financial independence."
Writing isn't just a skill; it's my tool to awaken confidence and foster self-worth in women, equipping them with the knowledge to steer their financial destinies.
My words and my actions serve as a bridge, connecting women to the boundless possibilities of self-discovery and personal growth.
Through simplified financial guidance and encouragement, I empower them to unlock their full potential and create a life of their own design.
I strongly feel that women can achieve anything only if we realise our true potential. Sometimes it is just in our way of thinking.

How did you discover your passion?
Through iterative planning intertwined with continuous shifts in execution.
Over the last 20 years, I have taken up numerous projects in my areas of interest. Among those, I would simply give up on the activities I didn't feel like pursuing in the long term.
In due course of time, these initiatives helped me identify the areas of my core passion – Tarot Reading, Chakra Healing, Spirituality and Healing and Motivating people."
It was essentially about arriving at a just to explore what really resonated with my personality and life choices.
How do you manage to keep going despite the challenges? What drives you?
Empowering and challenging the myths and stereotypes about the wellness journey to have self-awareness and courage to do their own therapy to heal and live a life of respect, dignity and abundance, and treat others with the same ethical principles is my drive to work in this field.
I believe in sharing Joy and helping people to realise what are their energy blocks and how to remove these blocks to heal themselves, especially single mothers."
That's the first principle of my movement VICTIM TO WARRIOR MINDSET. It is important to understand LIFE is shaped and designed by our own self-awareness and self-healing.
I think everyone should be happy they should do what they love more often. I always loved playing Basketball but due to my busy schedule and life, I could not find the time and energy to play. But now, even at 44, I take time out to play Basketball. Not only it keeps me fit physically but also mentally.
I envision a world in which all people, especially single mothers who feel distressed and depressed due to multifold responsibilities and insecurities – emotional, financial and relationship, have access to guidance for self-healing that can help them improve their mental and emotional health and achieve harmony and abundance. Thus, healing themselves first and then later promoting healthier families and communities.
Who do you believe has been the biggest source of motivation in your daily life?
My life changed around when I decided to move out of my toxic marriage. My kids Mehransh and Manya are my strength, they are the reason for me being alive. And very few close friends who are there for me through every thick and thin.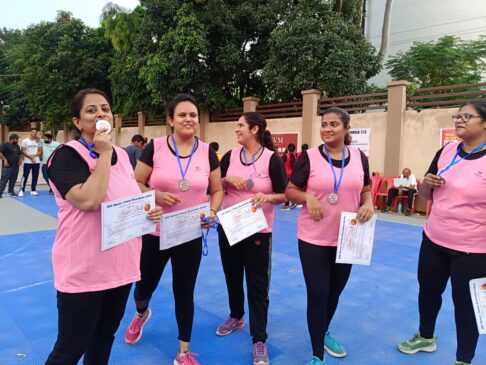 What are some of the strategies that you believe have helped you grow as a person?
There are a few:
> Being mindful and spiritual
> Always being resourceful
> Taking extreme ownership and responsibility for my actions Courage
> Ability to take risks & venture into uncharted territories.
In your opinion what are the keys to success?
I will say it straight that there are many factors but if you really have to have the key elements then to me these are the ones:
> Accepting and Loving myself.
> Responsibility for my actions
> Standing up for myself
> Resourcefulness
> Curiosity
> Positive Attitude
> Taking massive action (execution) with consistency and belief
> My Self-awareness and self-healing which is still under process and it's a lifelong journey which is transforming me day by day into a better version of myself.
What advice would you give to our readers?
Look at Self-healing not just as a one-day or one-month activity, but as a continuous process with faith and patience. You should be able to identify the energy blocks and how to remove those negative blocks so that you succeed in every sphere of life whether personal or professional, emotional or physical and wealth or relationship.
Most early starters find it hard to understand the subtle energies of consciousness and thus drop the practice in between. Self-healing requires a long view of what comes after and a good understanding of inner work and its positive effects.
There is so much to be shared, but this conversation limits how much I can communicate on this platform. People from all areas, especially mid-career women and single mothers regularly reach out to me on LinkedIn with their specific queries.
  
Last but not least, what about your journey makes it satisfying/exciting?
Getting great feedback from those who have been inspired through my social media content, amps up my energy to deliver more value to them.
Seeing shifts in them and in their journey makes it satisfying because I see their success as my success and their breakthroughs as mine. It serves as a reminder from the Universe that I am on the right path.
Follow Mridhuvani At: 
---
BrilliantRead is committed to bringing stories from the startup ecosystem, stories that reshape our perspective, add value to our community and be a constant source of motivation not just for our community but also for the whole ecosystem of entrepreneurs and aspiring individuals.
Note: If you have a similar story to share with our audience and would like to be featured on our online magazine, then please write to us at [email protected], we will review your story and extend an invitation to feature if it is worth publishing.