At BrilliantRead Media, our aim is to bring to our community some of the finest stories from the startup ecosystem. As part of this endeavour, we invited a passionate entrepreneur – Om Prakash for an exclusive interview with us. He is an entrepreneur, leader, consultant and mentor. Om is the Co-Founder at Gatoes. Let's learn more about his exciting journey, his background and his advice for our growing community.
Excerpts from our exclusive interview with Om

:
Talk us through your background and your journey as an entrepreneur, please;
Back in 2018, when I was still in college, I met my partner Jibran. At that time, we were handling many college events and fests.
I managed around 50 college events making them all great successes. That feeling triggered the entrepreneur inside me. The idea of starting up has always fascinated me.
A few months later, I was in Moscow, when I connected with Jibran again and we decided to do a startup together. We both each had an idea and we did research and analysis on both.
After a lot of due diligence, we decided to launch a food delivery app in tier-2 and tier-3 areas. All the major food delivery platforms in the market did not have an influential presence in such areas."
So, we got in touch with multiple developers and after several meetings, we finally met our team. For launch, we picked Kashmir because the place doesn't consistently enjoy good internet services. It was a challenge that we took head-on. We modified our application in such a way to cater to the people of Kashmir and to work imaginatively well on standard 2G internet services.
We were immediately able to develop our USP for the market which not only differentiated us from our competition but also brought a great new product into the market."
Over time, we have come across exceedingly challenging situations. And every day I rely upon my willingness to create something good for society to beat those challenges. I can say with confidence and clarity in vision that we are moving forward in the right direction at a good pace.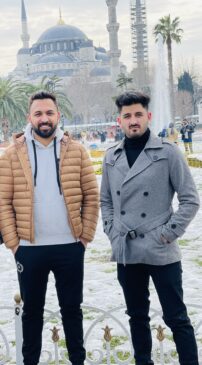 What attracts you to entrepreneurship instead of a corporate career?
I was always intrigued by the challenges of entrepreneurship rather than building a corporate career. Since my school days, I always tried to indulge in various projects and different businesses to make some extra bucks.
You see – my values were always to earn my entertainment money by myself rather than borrowing from my folks. This kind of attitude outlined my career goals quite clearly.
I was quick to realize that I always had a bunch of entrepreneurial skills including the most important to identify good opportunities and convert them into business. So, I just focused on building on my foundation and creating something of my own."
Moreover, a couple of years down the line, I realized that with my position I could also incorporate some effective change in the society, and from that point onwards the choice was always clear if it wasn't so much previously.
'Gatoes' is such a unique name; talk us through more about it, please. Our audience would also love to know what kind of problem you are solving?
Honestly speaking, it took us two months to land on the name "Gatoes". We had shortlisted a bunch of names earlier but none of them stuck around and created the kind of impact we were looking for.
The moment we heard "Gatoes", it sounded easy, effective, and relatable. Also, in our industry, if you check our competitors, they all use something which was quite productive for the marketing and branding side of things."
Gatoes did that job exceedingly well for us. The name "Gatoes" along with our preliminary marketing strategy went along with our target market really well. We received exciting feedback on the bunch of surveys so that made the decision easy for us.
As I had previously mentioned, Gatoes tries to reach the people of tier-2 and tier-3 areas where food delivery service is not that great. We want to make food delivery service easily accessible to such people and at the same time also create several jobs. We feel ourselves to be fortunate that so far things have gone well for us and people have started identifying themselves with the Gatoes brand.
During this COVID-19 crisis, what are the measures you have undertaken to continue your business without disruption?
We had done our first investment 5 days before the national lockdown imposed by our Prime Minister. So, we were kicked back by a few weeks for our launch. There were a series of challenges ahead of us, however, we identified them as opportunities to stand out. The first and foremost was to take care of our staff.
> We bought health insurance for everyone involved with Gatoes.
> We also distributed PPC Kits to all our riders to keep them safe.
> We worked remotely to ensure that the business operations continued smoothly without disruption.
Several new companies had entered the food delivery business during the COVID pandemic. However, backed by our robust tech and a strong willingness to succeed we were able to compete in a busy marketplace. And today, I can proudly say that we have captured a fair share of the audience and especially in the Kashmir region we have experienced multifold growth that motivates us to keep moving forward.
Who do you believe has been the biggest source of motivation in your daily life?
I met my partner Jibran back in college. Even though I had my fair share of experiences by then, however, by blending with Jibran's outlook on life I felt more motivated than ever before.
I remember one fine day before launching Gatoes, I had asked him "how he motivates himself to work as hard as he did"? And he replied, "we are at a stage of life where work is our utmost priority."He continued "if we work hard today, we would be able to enjoy tomorrow".
This line has somehow stuck with me and inspires me to work as hard as I can even today. And there is no doubt in my mind that I feel lucky to have met such an inspirational and intuitive partner in Jibran.
What are some of the strategies that you believe have helped you grow as a person?
Today when I look back at my journey so far I can tell you that I have had many failures. And even though I hated those experiences at that time, I can strongly say that the lessons learned from those failures have helped me grow over the years."
You see – it's our failures that more often than not define our successes. It is our failures that guide us. And I have realized that no matter what you do, as a budding entrepreneur the most important strategy is to learn from your own mistakes. Our mistakes help us get wiser and better for our future.
And apart from failures, I would like to mention my father who has always motivated me to keep exploring and keep having new experiences. He supported a lot of my ventures as I was growing up. He always pushed me to keep going forward and not be afraid of making mistakes. And even though I have a long way to go, my father has undoubtedly played a major role in my success today.
What are the three most important lessons you have learned building your startup?
(1)

I strongly believe that in business money is not everything. It is execution and the final delivery of your product or service which is far more important.
(2)

I have learned that sometimes it is very important to keep a little bit of faith in yourself, your skills, and whatever product or service that you are creating for this society.
(3)

And last but not least, the journey of entrepreneurship can also be incredibly easy and extremely hard. It depends on whether you have the two most necessary skills driving you or not – self-discipline and productivity. These two characteristics can make the journey of an entrepreneur a lot easier!

In your opinion, what are the keys to success?
I would strongly say that no entrepreneur should underestimate himself or his or her ideas. Not every idea indeed makes it to the list of unicorns but it is important to keep trying.
We must plan our actions and also keep room for improvisations. That is where the true creativity of a person is reflected. Also, it is important to not waste time. In my opinion, one must always keep looking, keep giving the required efforts without being afraid of failures, and someday he will be successful.
What advice would you give students and young professionals who want to have a successful career?
I strongly believe that our students are our future. The coming generation is going to redefine technology far better than we ever could. But to make this happen first we must establish strong working ethics.
It is my solemn advice to all the students and young professionals to treat time as an essence. Though it is important to have all kinds of fun experiences, it is equally important to have a vision, have faith, and the courage to chase whatever dreams that you may have.
Look, not a single thing seems real until someone actually manifests it into reality. Take anything for example – The ability to travel to Mars, self-drive cars, or artificial intelligence – who would have believed in these things a couple of decades ago but now they all are a reality of this world.
So I would suggest all students not be shy of dreaming incredible things, and more importantly, have the confidence to chase their dreams no matter what the world thinks about them.
Follow Om At:
---
BrilliantRead is committed to bringing stories from the startup ecosystem, stories that reshape our perspective, add value to our community and be a constant source of motivation not just for our community but also for the whole ecosystem of entrepreneurs and aspiring individuals.
Note: If you have a similar story to share with our audience and would like to be featured on our online magazine, then please write to us at [email protected], we will review your story and extend an invitation to feature if it is worth publishing.