At BrilliantRead Media, we always strive to bring to our community some of the finest stories from the entrepreneurship world. As part of this endeavour, we invited a passionate entrepreneur – Ragavendra Ganesh for an exclusive interview with us. Raghvendra is an Entrepreneur, Leader, Tech-wizard and Mentor. He is the Founder and CEO at Holoware. Let's learn more about his inspiring journey, his background and his advice for our growing community!
Excerpts from our exclusive interview with Ragavendra

:
We are aware of your contribution to the ecosystem, talk us through your background and your journey as an entrepreneur, please.
I did engineering from the prestigious Bharathidasan Institute of Technology
Then completed The Entrepreneurial Edge Programme, International Business in London Business School. I am a passionate individual from the beginning and always aspired to be one of the youngest achievers by delivering high performance in all walks of life.
Comes with 12+ years of IT industry expertise, working across different companies from startups to MNC's, I worked as networking lead and R&D performance in VMware. My next interaction was with a company called Spanugo, one of the core leadership teams, the company was acquired by IBM.
I also managed ti-Steps which now has branches across US, Germany and India.  I believe that whatever happens, you can achieve the target you have set for yourself.
I take pride in saying that Holoware was founded in the year 2020 when the entire world was suffering due to a pandemic but I envisioned this idea and founded Holoware."
What attracts you towards entrepreneurship instead of a corporate career?
I always wanted to convert ideas into the business through entrepreneurship. I want to create a system that will help my peers in the industry and when we started this company, we did market research that showed the prominent gaps in the industry, and we want to bridge those gaps through our offerings.
After the research, we have decided to enter in the computer segment which is in very niche area of our market and when you're able to look at it, the innovations is in the desktop segment where the stagnant compared to the innovations happening in the laptop and smartphone segment."
We want to be a front runner when it comes to innovation and quality in this market, and we are trying to bring in the hologram technology into the desktop market and this means that there is no need for a physical screen which makes it that much more reliable.
We have also come up with the concept called portable computer and we are the first in India to come up with these computers that have got high-end Desktop grade Processor & graphics.

'Holoware' is such a unique name; talk us through more about it, please. Our audience would also love to know what kind of problem you are solving.
I would like to tell you about the uniqueness of our brand Holoware. If you see keenly our brand logo consists of three capital H, which represent 3D holographic technology, space we are entering into.
If you notice, 4 letters are in bold which are HOWE, if you invert it, it will become HOME, wherein O represents the globe, & the meaning is self-explanatory."
So Holoware wants to fill the gap and ease the customer experience in term of technology, we use the latest technology which leads to higher performance with reduced cost.
During this COVID-19 crisis, what are the measures you have undertaken to continue your business without disruption?
As the business is born during Covid, each measure is taken to ensure that the model aligns with the challenges of the pandemic.
Every aspect of the business is online and tech-enabled to ensure automation as much as possible. We have a dynamic team of industrial experts from different domains joining hands with us to successfully execute Holoware's vision and Mission.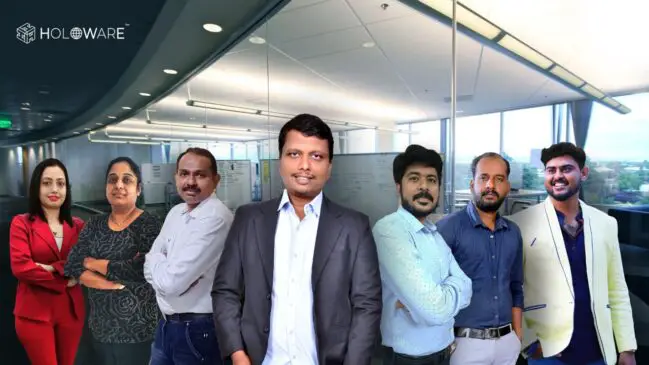 How do you manage to keep going despite the challenges? What drives you?
The two major issues that we faced were finding the right personnel who are talented and experts in this field in India and almost all the components that we use for manufacturing are outsourced from foreign countries.
Even though we faced these challenges, we never backed down, but we pushed ahead, trying out different things. People were also hesitant when we were launching our products about its quality but after using the products, they were super convinced about its usability, and they started to believe in the company and its product capabilities.
Who do you think has been the biggest source of motivation in your daily life?
To do something unique and benefit people's life is my daily motivation, and it keeps me moving.
What are some of the strategies that you believe have helped you grow as a person?
I have always prioritized getting the right people who are talented and motivated at the same time. This will help in implementing the strategy whatever has been planned.
What are the future plans of your company?
Apart from traditional solutions, we constantly think outside the box and we always look from the customers perspective and we come up with solutions that will help them the most.
We also have various CSR activities, and we want to grow together and help the communities so that they also develop. We want to be mentors to the rural candidates and guide them towards success and become a part of the nation-building process.
We as an organization are also aiming to partner with other software and hardware entrepreneurs to improve the efficiency and effectiveness of our offerings.
What would be your advice to the coming generation?
Believe & Stick to your goal, whatever happens, you can achieve the target you have set for yourself.
---
BrilliantRead is committed to bringing stories from the startup ecosystem, stories that reshape our perspective, add value to our community and be a constant source of motivation not just for our community but also for the whole ecosystem of entrepreneurs and aspiring individuals.
Note: If you have a similar story to share with our audience and would like to be featured on our online magazine, then please write to us at [email protected], we will review your story and extend an invitation to feature if it is worth publishing.