As part of our relentless efforts to identify and share some of the meaningful stories from India and around the world, this week we invited passionate entrepreneur Rishav Agarwal for an interview with us. Rishav is the Founder and CEO of Picxele. He is an Experienced Youth Marketer and Leader. Rishav has prudently leveraged his passion, expertise and skills by building promising scalable brands. Let's read more about his interesting journey so far and his advice for our growing community!
Excerpts from our exclusive Interview with him:
Talk us through your background and your journey as an entrepreneur, please
I completed my Graduation B.Tech (IT) from SRM IST, Chennai 2019.
 I informally started my business in May 2017 when I was just 21 years old."
After completing more than 43 Internships during my second year of college and getting to know about Marketing and other profiles, I got intrigued and developed great interest in that. I researched extensively to understand the need among the Students and Brands and how both of them have a gap among them because of which they weren't able to meet the goals.
I started with my own venture INTEGER Innovation where I used to get work from brands and get it done via students and paid them as a stipend and after running it for some time along with my college studies. Having gained good expertise and accumulated knowledge, in July 2018 I got my firm registered as Floatex Marketing Solutions Private Limited.
But as the work increased and when I kept onboarding brands and kept engaging students by manual process from student end it was becoming increasingly difficult to manage the work of Students and then I initiated the idea of Picxele app to make the things more smooth and streamlined for Students.

Why entrepreneurship over a corporate career?
I chose entrepreneurship because I always wanted to make an impact and when I started generating pretty good revenues till my college 4th Year I decided to take it full time and started setting an office in Mar 2019 before my college was about to end. I have always been intrigued by entrepreneurship and read success stories of all the successful entrepreneurs.
How is your product different from traditional products? Tell us more about your product and your startup's journey this far?
Picxele is a Customized Student Centric Application launched to bridge the gap between the brands and the college students. This will help in bringing a more efficient reciprocal engagement between brands and the students. It will be achieved thanks to our unique approach of providing Offers, Part/Full-Time Internships, Brand Campaigns, Influencer marketing, and also Jobs in a single platform.
The idea is to allow students to develop their skills as well as bring it to profitable use in order to earn and learn at the same time. Picxele is an application that aims in providing a more mature and distinctive use of micro-level marketing with being still intact to the roots of traditional marketing. This is achieved by bringing the brands to their targeted audience and helping them increase their outreach in the market through college students.
Need:
For Students: In a normal college student's life, the basics do not limit to just food, clothes, and shelter. They tend to find ways to learn and enhance new skills, to Earn through those skills, and to figure out ways to save that money as well.
For Brands: Similarly, brands do not limit to just their product releases, but also make sure to stay intact in the digital battlefield of this new-age marketing era.
Major USPs:
– Outcome guarantee to Brands.
– Fastest approval time for Quests.
– Live Status tracking for Careers.
Please share with us some of the challenges you faced in your journey;
Due to lack of legal knowledge and strong core team, we had faced issues in the beginning in terms of payment from brands and other aspects. But, with time and experience and when I interacted with more and more people, knowledge kept boosting. Challenges are part of the entrepreneurial journey. We keep encountering and solving them. We are in a much better place now than we were a year ago. 
What is your Business Mantra: Money or Emotions?
Initial days it was Emotion as in our market – the main focus is to keep both the brands and the students happy.
Our priority was to provide exceptional services to all the brands with full satisfaction and also to the students, in terms of experience and other recognition.
With time we earned our clients trust and as our brand grows in the market the money keeps coming. So I would say it is managing emotions and expectations is what matters most to us.
How do you handle the pressure and manage stress?
When you do what you really love, the pressure and the stress are not felt. As an entrepreneur, pain is a part of the journey that has to be experienced and enjoyed and suffering is only one's choice so you have to embrace it. From the journey of the student to Entrepreneur stress always stays but what I did is kept hope that things will be okay and kept facing the challenges and got regular support from my team especially my team member Tushar Bhatia who manages operations in Picxele.
What has worked well for you so far?
Tushar Bhatia COO of Picxele has always played a big role in the growth of Picxele.
I met him online in 2019 and we worked remotely for a year and soon realized that we can take it full time together after our college. Despite getting the highest placement offer from his College BML Munjal, he decided to let go and embarked on the startup journey along with me."
He as a friend and a team member has always extended optimum and constant support in every situation.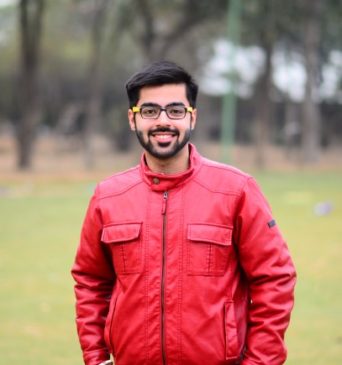 In your opinion what are the keys to success?
Hard work and being motivated is key to success. If you run away from problems it will follow. It is always better to run after problems to keep growing.
We would love to know your advice for all those starting out as an aspiring entrepreneur?
There is no age to be an entrepreneur, but whenever you start to decide – make sure you're completely ready especially if you are starting in your college days. Don't take a hit or trial method.  There are no second thoughts in entrepreneurship. Its either Yes or No. Just go for it only if you are ready.
Follow Rishav At:
People Also Read – Interview with Ritu Raj Das | Leader | Entrepreneur | Co-Founder of Skill Prodigy
__________________________________________________________________________________
BrilliantRead is committed to bringing stories from the startup ecosystem, stories that reshape our perspective, add value to our community and be a constant source of motivation not just for our community but also for the whole ecosystem of entrepreneurs and aspiring individuals.
Note: If you have a similar story to share with our audience and would like to be featured on our online magazine, then please write to us at [email protected], we will review your story and extend an invitation to feature if it is worth publishing.