As part of our endeavour to bring some of the compelling startup stories from the startup ecosystem, we interviewed Sarvesh Agrawal – Founder & CEO at Internshala. Sarvesh is solving one of the major problems through his startup and is impacting lives of millions of students. Let's read more about how he started Internshala, his journey and the way forward!
Excerpts from our exclusive interview with Sarvesh:
Where did the idea of Internshala come from?
I come from a middle-class business family in Rajasthan which introduced me to the world of dealing with customers, running an enterprise from an early age. Thought of starting something of my own caught my interest during my first job (at Capital One in the UK) and I wanted to do something in the field of education because I believe it can make a substantial difference to one's quality of life and a nation's wellbeing at large. With that thought, I returned to India and kept experimenting with different ideas until the idea of an internship portal stuck with me for long enough that I started working on it.
Back in 2010 (and even today), everyone was talking about how Indian graduates were not employable. On the other hands, students often complained of not finding their first jobs fulfilling since they had different expectations. I felt a culture of meaningful internships could solve both the problems and there wasn't any substantial effort happening in India at that time so I decided to take it up. Incidentally, one of my close friends from IIT days was also looking for an internship at the same time and he could not find one and I felt a platform was needed to bridge the gap.
Why did you choose entrepreneurship over a job?
At a deeper level, entrepreneurship excites me because of the creative freedom it offers and the immense learning opportunity it presents – in first 6 months of running Internshala, I had done and learned more things than in 5 years of previous corporate experience. Internshala also gives me the satisfaction of making a difference to a few lives which are hugely important to me for my peace.
What gets you out of bed in the morning i.e. what's your source of motivation?
I am motivated by the fact that through Internshala, my work is impacting the lives of hundreds of students every day. I read inspirational success stories of students, young graduates, and women who have taken the first step toward their career through Internshala.
Another motivating factor is the excitement to be in the office because then I feel as if I am at the NASA space station. You are surrounded by some of the smartest and most passionate people, together on an exciting mission, and in an environment where you feel free – not just creative freedom but freedom to be yourself. What you wear, how you look, what designation you are at etc. do not count – only ideas, dreaming big and making it happen, seeking the truth, and relentless pursuit of excellence matter. We are proud of the open and transparent culture we have built and look to provide every team member with an environment where the best work of her life could take shape.
What challenges/obstacles did you face in your journey so far?
One clear challenge which I faced was to build the technology team. I had studied Civil Engineering and did not know 'p' of programming. Initially, a friend helped me set up the blog and we continued to make do with it and a team of interns who were able to make minor changes and automated a few things. But the entire web operations was still quite manual and it became difficult when the users increased. After struggling for 3 years, we finally moved away from WordPress set up and went live with the current platform in 2013 and by the end of 2014 we were able to set up an in-house technology team.
Another challenge has been to bridge the skill gap among students so that they can get their dream internships. At Internshala, we have always focused on measuring our success on the number of students who get an internship through us. And for this number to grow, students must have the necessary soft and technical skills so that they can be hired by the companies. To bridge this gap is difficult yet essential and central to Internshala's existence. With Internshala Trainings, our online training platform and the advent of social media and technology in general, we have a ray of hope that we would be able to overcome this challenge too.
What are your expansion plans?
With +6 Mn registered students, Internshala is just getting started. While we will continue to strengthen our presence in cities and metros (where most of the current students and internships come from), we have started concentrated efforts in smaller cities (and towns and villages subsequently) this year onward to take the message of meaningful internships to youth there as well. Historically, there is no dearth of talent in our tier 2/3 cities – we need to bring awareness and opportunities to them if India were to reap the true benefits of its demographic dividend.
The other priority would be to scale up our online learning platform, Internshala Trainings (see here) to solve the skill problem. On Internshala Trainings, as of now we offer training in 15 in-demand fields like ethical hacking, python, web development, internet of things, and data science and will continue to add more programs to it as per industry needs.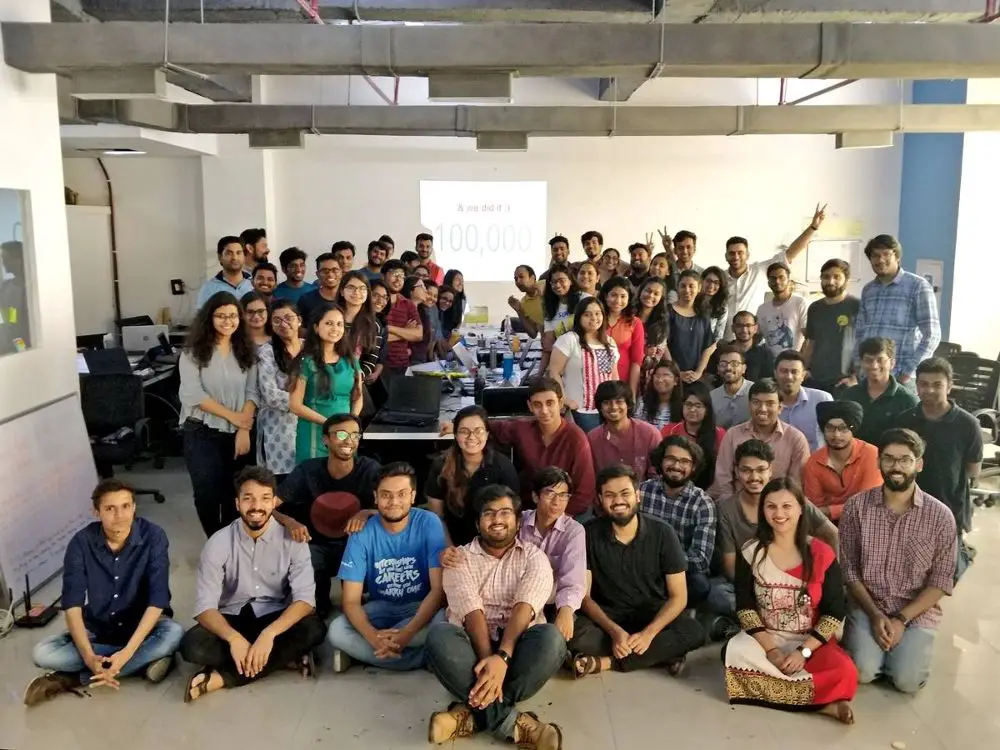 What comes first for you – emotions or people?
For us, People > Money has always been our guiding principle and people at the heart of everything we do is one of our core cultural values.
Our rationale behind this is very simple. Money does not build a business, people do; so, one should never short change them. This is not to say that you should not be money-minded (you absolutely must be). Also, People > Money does not only say that people are greater than profits, but it also says that people lead to profits 🙂
For example, we kept the internship platform free for everyone and continued to serve them in the best way we could without knowing how it would eventually play out. But 3 years later when we launched a fee-based online training platform, students were happy to pay because they trusted the platform.
Similarly, there is immense freedom (both creative as well as from processes) for everyone in the team and we have a policy of no fixed number of holidays in a year (you can take as many as you want) – everyone appreciates this and things get done on time without anyone having to follow up. As long as you continue to treat people the way you would like to be treated yourself; the universe has a way to figure things out for you.
How do you handle the pressure and manage stress? 
When dealing with pressure, I imagine the worst possible, make my peace with it, and then start thinking of possible ways to address the situation at hand. That way, every possible outcome feels like an improvement over the worst possible that I am already at peace with. I am hugely inspired by Dhoni and his ability to soak pressure and hope to learn it from him.
My wife is another massive support system who is always there to listen to me and offer honest advice that I can trust. She calms me down a lot 🙂



What advice would you give to someone starting, particularly to aspiring entrepreneurs?
My advice would be to enjoy the journey as much as the destination. Entrepreneurs by design are very competitive and very outcome-focused and in that hustle, we often tend to ignore that real joy and real learning lies in the process and not in the outcome (which you have little control over anyway). Even if we fail, we would, hopefully, emerge much stronger and much wiser as a professional and as a human being and for me that is the key takeaway of entrepreneurship. This change of perspective can do wonders to your peace and happiness.
You may also like ~ Interview With Paras Arora | Founder & CEO At Qdesq
——————————————————————————————————————————————————
BrilliantRead is committed to bringing stories from the startup ecosystem. Stories that reshape our perspective, add value to our community and be a constant source of motivation not just for our community but also for the whole ecosystem of entrepreneurs and aspiring individuals.
Note: If you have a similar story to share with our audience and would like to be featured on our online magazine, then please write to us at [email protected], we will review your story and extend an invitation to feature if it is worth publishing.