As part of our ongoing quest to get you meaningful and powerful stories from India and around the world, we invited yet another passionate entrepreneur and coach – Vimal Khubchandani for an exclusive interview with BrilliantRead Media. He is a Life Coach, Mentor and Entrepreneur. Let's read more about his inspiring journey and his advice for our growing community!
Excerpts from our exclusive interview with Vimal

:
We are aware of your contributions to the startup ecosystem; talk us through your background and your journey as a coach, please;
I was born and brought up in Mumbai and finished my bachelors in engineering from Mumbai University.
During my early years I had an opportunity to go to Silicon Valley, California for a couple of years to work for a networking start-up in the Bay Area."
Then I also worked for a couple of years for a leading bank and a leading insurance institution in New York doing software development using Microsoft products.
I finally returned back to Kerala to-do some volunteer work for a charitable organization for its super speciality hospital and colleges. I also did training for Mumbai University colleges and the corporate IT sector.
I have also done some teaching volunteer work for educational NGOs in Mumbai for the underprivileged."
I also worked as a Real estate agent for some time.
The goal is to add value to the lives of people. It is now my purpose to help people transform their lives. I was always inclined to spirituality so I chose to become a life coach. It aligns well with my purpose and I enjoy helping people.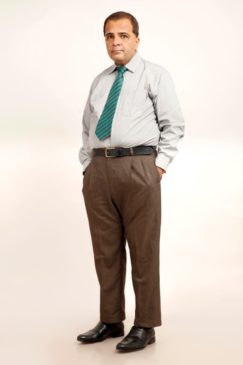 What do life coaches actually do?
A life coach is a type of wellness professional who helps people make progress in their lives in order to attain greater fulfilment. Life coaches to aid their clients in improving their relationships, careers, and day to day lives In creating these strategies, life coaches target your unique skills and gifts.
Please share with us a unique challenge you faced in your early career?
I realized early in my career that university education doesn't give enough technical skills for the modern-day workplace.
Further skills upgradation continuously is required along with work in the industry."
One Also needs soft-skills training which is not imparted By the University education system.
How did you discover your passion?
During my final year of engineering, I did a thorough study of the complete works of Swami Vivekananda. In his books, he has clearly pointed out the good and the bad things in both western countries and India. His words have been a Guiding light throughout my career and hence I have become a Life coach.
With so much going on, how do you start the day to keep your passion alive?
I try to live my daily life with mindfulness. I have diabetes and need to monitor my diet, exercise, blood sugar, medication regularly. I try to Take frequent walks during the day in the neighbourhood and nearby garden. I mostly work from home and try to frequently walk within the house and avoid being a couch potato
In your opinion what are the keys to success?
IQ, EQ and SQ are the keys to success. We need a good intelligence quotient and good emotional quotient and a good spiritual quotient. Hard work combined with smart work and taking advice from a mentor And training are necessary. physical and mental health should not be ignored in the pursuit of success.

We know that you are continuously engaged in helping others achieve their goals. Why do you do that?
When we work to remove the sufferings of others our own sufferings are Removed. When We give Our time, talents, abilities and skills to others then The universe brings to us what we need in mysterious ways.
What advice would you give students and young professionals who want to have successful careers?
Students and young professionals should have a Continuous focus all the time on work, money, relationships and health.
Youngsters should aim for all-around success in their careers, relationships, personal finance and health. Youngsters should understand saving and investing right from their early careers. They should undergo training in leadership and soft skills. Youngsters should try to rise up the corporate ladder or eventually become self-employed or start their own business.
For further guidance, I regularly take one on one zoom life coaching sessions with individuals and guide them in a Friendly Manner.
Follow Vimal At:
For Life Coaching Session:
WhatsApp Number

– +91-9819440199
---
BrilliantRead is committed to bringing stories from the startup ecosystem, stories that reshape our perspective, add value to our community and be a constant source of motivation not just for our community but also for the whole ecosystem of entrepreneurs and aspiring individuals.
Note: If you have a similar story to share with our audience and would like to be featured on our online magazine, then please write to us at [email protected], we will review your story and extend an invitation to feature if it is worth publishing.