NGOStory launches a unique platform called TechJr to empower and train 100,000 children & youth from economically weak backgrounds through specialized programs in Coding & Entrepreneurship.
To facilitate the same, NGOStory has collaborated with few Ed-techs who were otherwise running these programs for the mainstream students.
The pandemic paved the way for many Ed-techs who started to conduct specialized programs through online platforms. In our country, Quality education is for the privileged but not a right. We are proud to have collaborated with ED-techs who really want to bring about a revolution of creativity and critical thinking. These 21st-century skills of the future, was for the privileged because they can pay large amounts of money to pursue programs from world-class mentors. How can the country progress if there is no emphasis on helping this wave reach the Real India. The children and youth from low-income groups from the face of Real India.
We really need to come together as a community, park the commercial mindset in imparting education and join hands to empower the underprivileged youth & children of our country. We are looking for more Ed-techs who will support us in this mission of "Ab Poora India Seekhega"
"TechJr is an exciting opportunity for both Ed-tech startups and Ed-tech leaders in the market. While the investors keep looking for innovative startups with a mission statement, the leaders can channelize it into a wave of giving back to the community and increase brand loyalty"
"NGOStory is an aggregator of NGOs, an organization working towards empowering Non-profits, by sharing their stories, talking about their initiatives, fundraising challenges and conducting varied events and specialized programs to empower them. We call ourselves the "Voice of NGOs".

How did the journey start?
When the coronavirus crisis hit the world, I was stuck in my hometown, Jamshedpur. While the entire world was cribbing about being stuck in the comfort of their own homes, millions of migrant workers & domestic servants were stuck in far off cities with no wages or means to go back home.
There were many NGOs who were organizing food drives to help them, but most of them were dependent on a few philanthropists and didn't know how to approach more people for help. The entire world rigorously started to use digital platforms to reach out to more donors. But, the small NGOs didn't know how their voices will be heard.
I initially started on helping one NGO but there were many others who were in dire need and wanted support. This is how NGOStory was born. I wanted to create a platform for all Nonprofits to come together, share their stories, talk about their initiatives and Fundraising challenges.
There was no media platform solely focusing on Non-profits, featuring their stories and empowering them through digital marketing, events and specialized programs. I wanted every NGO to feel empowered.
NGOStory is on a mission to Empower NGOs and in turn, Empowering Real India. I want each Non-profit of this country to get their story featured on our platform and have a dedicated space to share their journey, challenges and initiatives. NGOStory is proud to be a voice for the NGOs.
"We want to be a one-stop solution for all stages of growth of an NGO right from recruiting team members, marketing their cause, revamping education through specialized programs and helping them make their NGOStory powerful"
I think COVID gave the time to most of us to pause and think of pursuing your passion. NGOStory too was born during this time and with each passing day, as we were empowering NGOs, we came out stronger!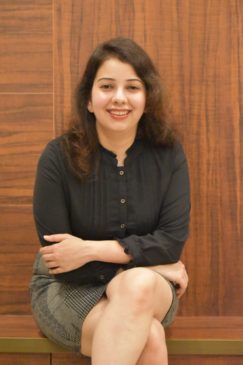 "Life has been full of trials and tribulations. There will be many who will stop you, demotivate or look down upon your journey. Surmount all and see your inner potential. You are much more than this."
---
BrilliantRead is committed to bringing stories from the startup ecosystem, stories that reshape our perspective, add value to our community and be a constant source of motivation not just for our community but also for the whole ecosystem of entrepreneurs and aspiring individuals.
Note: If you have a similar story to share with our audience and would like to be featured on our online magazine, then please write to us at [email protected], we will review your story and extend an invitation to feature if it is worth publishing.