Best Kyrie Irving Quotes
Kyrie Andrew Irving is an American professional basketball player for the Boston Celtics of the National Basketball Association.
Born: 
23 March 1992, Melbourne, Australia
Current team: Boston Celtics (#11 / Point guard) Salary: 17.64 million USD (2016)
Career history
2011–2017
Cleveland Cavaliers
Kyrie Irving is one of the best basketball players who has earned many accolades and left an indelible mark in NBA within a short span of the Basketball career.
Here are the best Inspirational Kyrie Irving Quotes: 
"Basketball isn't a game; It's an art form. You master the fundamentals so you can forget 'em, so you can improvise and just concentrate on what really matters: getting buckets." – Kyrie Irving
"Everybody in the NBA is good. And then you have the really good ones and the great ones." – Kyrie Irving Quotes
"Everything is earned, not given." – Kyrie Irving
"One thing that somebody told me is that leadership is a lonely role – some people can do it, and some people can't." – Kyrie Irving
"No alarm clock needed. My passion wakes me up !" – Kyrie Irving
 
"Work hard, stay focused and understand that nothing worth achieving comes easy." – Kyrie Irving
Must Read – 37 Famous LeBron James Quotes On Success and Basketball
"Unleash everything you have and never look back. Never be afraid to be the best." – Kyrie Irving
 
I'm in Cleveland. I enjoy myself. I enjoy going out and competing at the highest level for the Cleveland Cavaliers." – Kyrie Irving Quotes
"In 8th grade, I was semi-tall, had slow feet, was barely touching the backboard.. but still got buckets!" – Kyrie Irving
You may also like – 35 Best Kevin Durant Quotes On Hard-Work and Basketball
"Nobody is gonna stop you from being you, but yourself." – Kyrie Irving
"The only thing I command is respect." – Kyrie Irving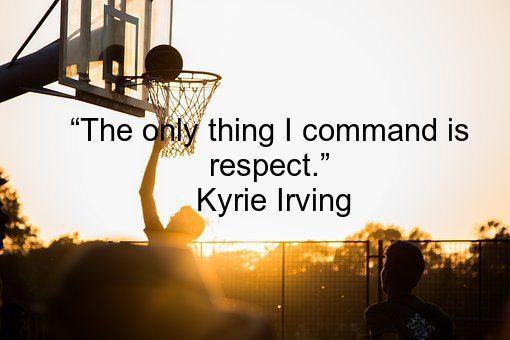 "I always dreamt of being a basketball player. A dream that only I believed in."– Kyrie Irving
"I love the gym; I love basketball. I'm really passionate about it." –  Kyrie Irving
Related – 33 Famous Stephen Curry Quotes On Life and Basketball
"I felt like we would have definitely won an NBA championship if everyone was healthy." – Kyrie Irving Quotes
"Growing up, I was a typical high school kid when YouTube first came out, and I was just watching a whole lot of videos of guys in the league I'm playing with now, guys that aren't in the league, and guys that came before me, just watching the moves that they do, and going out in my backyard and trying them. I did it almost every single day. And I didn't do any crazy dribbling drills or any two-ball dribbling drills. I'm really not good at two-ball dribbling. Nah, never did that. I just went out and tried the moves that I saw." – Kyrie Irving
"Embrace the challenge; never run from it. Don't ever let anyone's thoughts or opinions affect your drive to be great." – Kyrie Irving Quotes
"I haven't been a leader – not at all." – Kyrie Irving
"Directors tell me what to do, and I kind of just put my own twist to it, just to get inside my personality that everybody doesn't really get to see – my off-the-court interests and the way I act. It's just me." – Kyrie Irving
"You want to keep the defense guessing." – Kyrie Irving Best Quotes
Do share it with others and Subscribe to our website for more motivational articles.