Motivational Lion Quotes
Lion symbolizes aggression, energy, courage, leadership, loyalty, freedom, and fearlessness. One can learn many things from the king, the ruler, the powerful Lion.
Many Successful warriors, leaders, and rulers such as Alexander, Chanakya drew a lot of motivation from Lions.
BrilliantRead has collected for you, the best ever Lion quotes that would motivate you to be better than ever before.
Following are the best Lion Quotes that would inspire you:
"If ever you feel like an animal among men, be a lion." ― Criss Jami
"I am not afraid of an army of lions led by a sheep; I am afraid of an army of sheep led by a lion." – Alexander The Great
"A lion is called a 'king of beasts' obviously for a reason." – Jack Hanna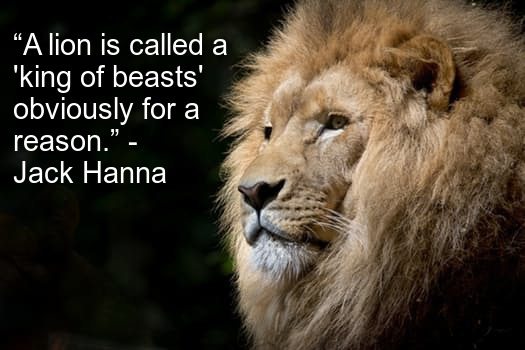 "The one excellent thing that can be learned from a lion is that whatever a man intends doing should be done by him with a whole-hearted and strenuous effort." – Chanakya
"It's better to be a lion for a day than a sheep all your life." – Elizabeth Kenny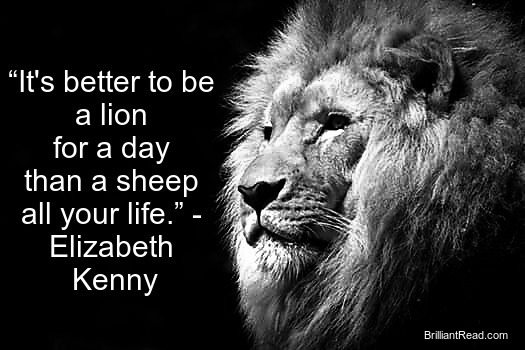 "I am bold as a lion." ― Lailah Gifty Akita
"I carry around this little lion named Leo, which I've had for as long as I can remember." – Shawn Mendes on Leo
"A lion doesn't concern itself with the opinion of sheep." ― George R.R. Martin, A Game of Thrones
" There is a lion inside you" – Lion Motivational Quote
"A lion does not flinch at laughter coming from a hyena." ― Suzy Kassem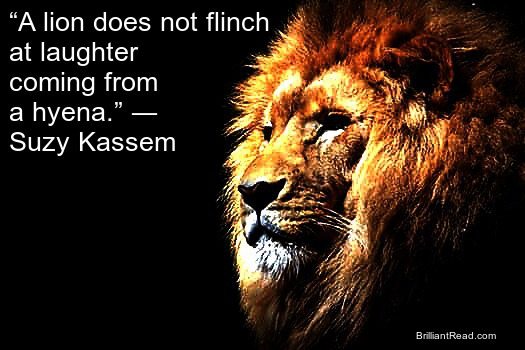 "You don't see sick animals in the wild. You don't see lame animals in the wild, and its all because of the predator: the lion, the tiger, the leopard, all the cats." – Tippi Hedren
"A lion's work hours are only when he's hungry; once he's satisfied, the predator and prey live peacefully together." – Chuck Jones
"Lions are neither predators nor killers. They just go for hunting like kings; because they are the kings!"
― Munia Khan
"At a certain point, even if the one alpha male is dominant, at a certain point there's a younger lion that is stronger, and everyone knows it." – Josh Lucas
"Some people lose all respect for the lion unless he devours them instantly. There is no pleasing some people." – Will Cuppy
"Be a Lion and Dominate the game" – Harsh Tiwari
"Whatever you do; do it like a lion, wholeheartedly" – Harsh Tiwari
"Only in art will the lion lie down with the lamb, and the rose grows without the thorn." – Martin Amis
"With each new day in Africa, a gazelle wakes up knowing he must outrun the fastest lion or perish. At the same time, a lion stirs and stretches, knowing he must outrun the fastest gazelle or starve. It's no different for the human race. Whether you consider yourself a gazelle or a lion, you have to run faster than others to survive." – Mohammed bin Rashid Al Maktoum
" An injured lion still wants to roar." – Randy Pausch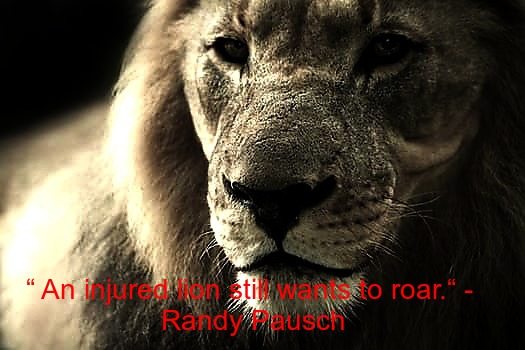 "An optimist is someone who gets treed by a lion but enjoys the scenery." – Walter Winchell
"Fear not, we are of the nature of the lion, and cannot descend to the destruction of mice and such small beasts." – Elizabeth I
"I was the shyest human ever invented, but I had a lion inside me that wouldn't shut up!" – Ingrid Bergman
"People go to the zoo and they like the lion because it's scary. And the bear because it's intense, but the monkey makes people laugh." –  Lorne Michaels
"A lion runs the fastest when he is hungry." – Salman Khan
I've got a friend who is a lion tamer. He used to be a school teacher till he lost his nerve. Les Dawson
In boxing, it is about the obsession of getting the most from yourself: wanting to dominate the world like a hungry young lion."- Anthony Joshua
When I have bad days, I just eat lots of chocolate ice cream and dance to the 'Lion King' soundtrack. It's really odd, but it's true." – Blake Lively
"I am more afraid of an army of 100 sheep led by a lion than an army of 100 lions led by a sheep."- Charles Maurice de Talleyrand
"You know, I am a Leo. Lion is a giant part of me." – Patrick Swayze
"I am impelled, not to squeak like a grateful and apologetic mouse, but to roar like a lion out of pride in my profession." – John Steinbeck
"New York is really the place to be; to go to New York, you're going to the center of the world, the lion's den." – Zubin Mehta
" I refuse to be outworked, and I consider myself to have the heart of a lion." – Draymond Green
" To be a Lion, be with lions" – Unknown
Do let us know by commenting which one you relate to, the most.
You may want to subscribe to this website to receive articles on motivation, positivity, and self-improvement.