Bitcoin Bubble Explained
Irrational exuberance has to come to an end eventually. Nothing better can explain it than Bitcoin.
Similarity between Bitcoin and Bubble Chart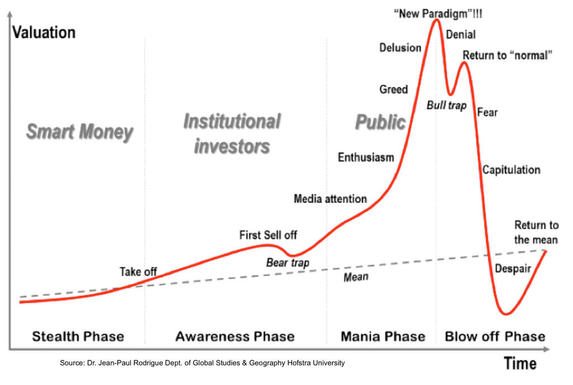 Looks like the bubble has finally burst and it has deflated a lot of investors across the globe. Despite warnings and triggers, People invested in the Crypto-Currency.
Those with major chunk would already have sold and booked profits, leaving retail/small investors on tenterhooks.
Just like Silver, Tulip and  Shanghai Markets i.e typical examples of a bubble, Bitcoin too seems to have joined the club.
Bitcoin Bubble Chart

                        Image Source – MarketWatch
The price of one bitcoin (BTC) reached an all-time high of $19,783.06 on 17th Dec 2017 before retracing all the way to $6850 on 5th Feb 2018
It has since eroded over 65% of market value from the highs it made and in the process, has entrapped many investors who are possibly waiting for the next move. Either, they have to book losses or wait indefinitely to recover the cost.
As I write, 1 bitcoin is valued at $6856.10 and as per the bubble formation it should come down to 5 to 4000 levels or possibly below that.
"Risk comes from not knowing what you're doing." – Warren Buffet
It is our endeavor to educate everyone and help them save and make money.
Note – The author is an Independent Research Analyst with over 10 years of experience in equity markets and offers unbiased advice to clients.
You can reach him at [email protected] for queries/consulting or Portfolio Management.