At BrilliantRead Media, we always strive to bring meaningful and powerful stories from India and around the world to empower and motivate our growing community. As part of this endeavour, we invited Chhaya Sharma for an exclusive interview with us. She is a Leader, Social Entrepreneur, Activist, Change Maker, Influencer and Mentor. Chhaya is the Founder and Managing Trustee at Ushakiran NGO. Let's learn more about her incredible journey, her background, and her advice for our growing community!
Excerpts from our exclusive interview with Chhaya

:
Talk us through your journey? Where did the idea to start Usha Kiran come from?
Usha Kiran began with my inner voice of heart to help the children from vulnerable communities to live a life of dignity by providing them with quality education and life skills to unravel their inner potential.
Usha Kiran

was founded six years back since then we have touched the lives of thousands of children from vulnerable communities. These children aspire to study but are forced to leave their education.
When a child comes to Usha Kiran, we understand their acumen and prepare the child for School Admission. We find the best table option of school for them and pay for their fees uniform books etc. these children come to study at Usha Kiran Study Centre for after school coaching where they are ably guided by subject experts."
Apart from education, we provide them training in various curricular activities like dance, music and arrange their public performances in community functions. We also work towards the skill development of these children and give them the opportunity to showcase their work in exhibitions.
All the national festivals and religious festivals are celebrated at the centre to inculcate the feeling of patriotism and make them connected to the rich cultural heritage of our country. We work for the overall grooming of these kids so that they become a shining example of knowledge and awareness.
The children who come to study at our Ushakiran study centre belong to the underprivileged sections with no access to electronic devices such as computers and laptops, essential for their education and future prospects.
One of the main reasons for this is the high cost of internet access and devices. But even more worrying is the fact that many of these people especially children are not being taught digital skills in school. This leaves them at a disadvantage when competing for jobs in the future.
Not only that,
> Rural children are not getting the same level of education as their counterparts in urban areas.
> They also do not have access to the same resources and technology.
> This lack of exposure to new technology is hurting their future prospects.
> Rural schools do not have the resources to provide digital education to their students.
We are utterly grateful for the initiative taken by
Jubilant Bhartia Foundation

. They have collaborated with HP by providing a mobile bus with 120 laptops. The bus will be visiting our centre for 1 hour daily to encourage the children to learn basic computer skills to thrive in this technologically advanced world. Many of the children experienced holding a laptop for the very first time and it was quite a surreal experience for them too.
We want to help close the digital divide by providing equitable access for underprivileged children. That's why we're working on a project that will provide digital literacy training to kids from villages in our NGO Usha Kiran centre.
This training will help them learn basic computer skills, use the internet safely, and access word documents, presentations, and other educational resources. By providing digital education we can help bridge this divide and bring India one step closer to achieving universal education.

What are the challenges you encountered in the journey so far?
I started teaching children at my home. Since these children belonged to slums and marginalised communities, in the initial stages they were considered a security threat for our residential society where I live but by their good behaviour, discipline and public performances during the cultural events and exhibitions in our society, these children of Usha Kiran were able to win love, confidence and respect from everyone and people started looking forward to help them in every possible way.
How does being empowered feel? How do you plan to keep it going?
I believe that empowerment starts with us taking control of our own life.
It involves setting up the right goals taking sound decisions for myself and contributing reasonably towards society.
I'm trying to act as a catalyst by providing education, vocational and social skills to the children of economically weaker backgrounds so that they become a confident and shining examples of knowledge and awareness.
What are the major challenges faced by the girls of rural and urban slums? What is the role of education?
Have found that the girls of rural and urban slums are facing the dual challenges of extreme poverty and gender discrimination which is predominant right from their birth.
I find that the major reason behind this is illiteracy. I believe that without proper education for all, gender equality is not possible. Their parents are ready to send their sons to school while the girls are forced to stay at home and do household work.
Gender empowerment isn't possible without giving equal opportunities for education to the girls Education gives them access to their rights and duties is boost their self-confidence and self-esteem and makes a girl self-sufficient.
Opens up their thinking, discouraging superstition intolerance and other taboos. I believe that if I empower these girls they will empower their families, siblings, friends and community as a whole.
What is Nutri (Kitchen) Garden and it's benefits?
Ushakiran has joined hands with India Food Banking Network to empower children with knowledge and skills to make healthy lifestyle choices which will positively impact their health and nutritional status by developing a school nutrition garden at Kulesra village The project commenced with a session by Dr. Yogender Kumar Meena, an Agronomist from Krishi Vigyan Kendra, Bharatpur for children to raise awareness and share the methodology for setting up of Nutri-kitchen garden.
Here are the Benefits of Nutri (Kitchen) Garden:
> Children will be aware of scientific ways of organic farming on learning botanical aspects of plant growth such as seed germination, flowering, fruiting and harvesting.
> Providing opportunity to the Children in developing life skills and also connecting them with nature.
> Keeps the children physically and mentally fit through this engagement in Nurti (Kitchen) Garden project utilizing their free time constructively.
> Freshly grown seasonal vegetables will be available for Children throughout the year.
> Portable and clean water is used for irrigation producing good quality vegetables
> Household vegetables waste can be used as manure (Biocompost)
> Vegetables will be free from artificial colours, chemicals, fertilizers, pesticides etc. which are health hazards.
> Herbs like Tulsi (Besil), Giloy, Pudina (Mint), Haldi (Turmeric) etc. can be grown.
> Generate employment opportunities
> All above benefits are linked to UNGC Sustainable Development Goals (SDGs)
Through Nutri garden children will enjoy healthy farm fresh seasonal vegetables throughout the year. We have introduced some bio-fortified vegetables like red okra, black tomatoes, red cabbage, moringa to take care of nutrition needs of children

Usha Kiran is such a unique name, where did the idea for this name come from?
Usha is the name of my mother who is my inspiration. I also wanted to nurture these kids like a mother while Kiran is a synonym of ray of hope, joy and kindness.
What are the other projects you have undertaken to enlighten these kids and make their lives better?
Besides education we give stress on personal hygiene, creating environmental awareness by holding cleanliness drives in the village, planting trees, installation of bird nests are practised by the children of Usha Kiran.
With a view to protecting and conserving the goriya, Ushakiran joined an initiative of volunteers 137 group working towards it. Children of Ushakiran made bird nests which are made from jute and dried grass placed on the trees.
Several people in the residential societies have also got nests made by the children placing them on their balconies to help the birds in getting a stable nest. These nests are strong and withstand weather changes.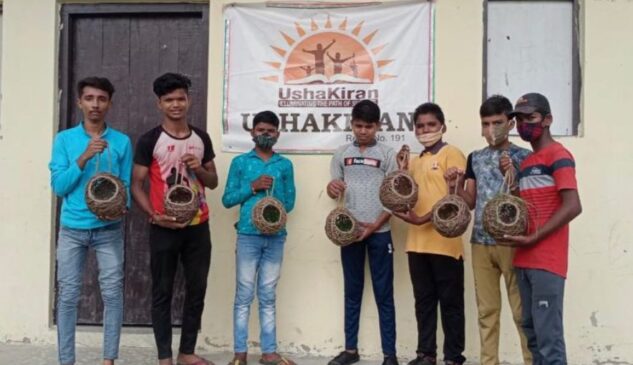 It was a great learning experience for the kids and a step towards environment conservation and protection.
We have also opened an e-library for the children which has more than 1000 books on various topics. We have started various projects such as:
Project Shubarambh

– To create awareness of taboos related to menstruation in society, and menstrual hygiene by providing clean healthy options to women and girls of underprivileged sections.
Project Uddan –

To provide bicycles of underprivileged children to commute to school and our Ushakiran study centre which saves their time and brought some relief in their lives.
Project Annapurna –

To provide healthy nutritious meals to the children
Project Jagriti –

T0 create awareness by organising workshops, lectures and interactive sessions guiding them of career options etc
During this COVID-19 crisis, what are the measures you have undertaken to continue your efforts without disruption?
During difficult times of Covid, we continued working with the tremendous support of volunteers. We were able to help a large number of people so that they don't migrate back to their village.
We provided dry ration kits, hygiene kits to the people which consisted of daily wagers who had lost their means of livelihood. Helped in setting up of community kitchen in the village where thousands of people received daily meals.
Generated employment for small tailors and women by providing them training for making cotton reusable masks. Distributed free masks to underprivileged people along with creating awareness of covid appropriate behaviour.
We provide internship opportunities to school and college going students. We encourage them to work at the grass root level, do the need assessments and come up with their solution. We look forward to the positive change these talented individuals may bring in the society
What keeps you going in spite of so many challenges?
The success stories of our children motivate me to do better. I strive to provide the best of opportunities to these hardworking and deserving children.

Would you like to share anything with the audience in particular? What's your advice for those aspiring to do something similar?
I am thankful to all the individuals, groups, organisations who have believed in me and supported me in this blissful journey of Ushakiran.
I think if your vision is clear, you are sincere with your work you will win the confidence of people and there is a divine force always there to make things happen for these hardworking souls who deserve better opportunities and life.
Follow Ushakiran NGO At: 
---
BrilliantRead is committed to bringing stories from the startup ecosystem, stories that reshape our perspective, add value to our community and be a constant source of motivation not just for our community but also for the whole ecosystem of entrepreneurs and aspiring individuals.
Note: If you have a similar story to share with our audience and would like to be featured on our online magazine, then please write to us at [email protected], we will review your story and extend an invitation to feature if it is worth publishing.