At BrilliantRead Media, we always strive to bring some of the meaningful and powerful stories from India and around the world to empower and motivate our growing community. As part of that endeavour, this weekend we invited yet another erudite professional life coach & wellness consultant with over 18 Years of comprehensive coaching and consulting experience – Deepak Sharma to know more about his astonishing journey. He is an HR and career consultant, mystic and yogi, writer, traveller and founder and president at 'Deep Success Mantra Services'. Let's learn more about his journey, way forward and his advice for our growing community!
Excerpts from our exclusive interview with him:
We are aware of your contribution to the ecosystem, talk us through your background and your journey as an entrepreneur, please;
I was born and raised in a middle-service-class family in New Delhi with limited resources and social environmental conditioning which did not allow me much to explore various education and career opportunities independently therefore after completing my graduation, I had to start working. My initial years of struggle paid me off well and I could gradually find my way to grow, earn, learn and succeed while working with diverse national and international organizations for successful 15 long years.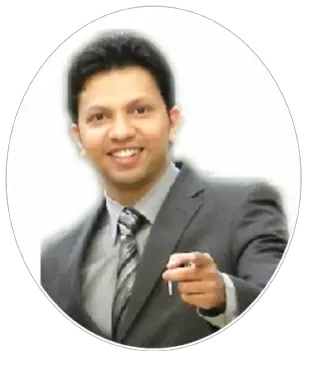 Until one day, I realised to take a giant leap of quitting my well-established Job in hand to peruse my dream. The dream was to independently establish myself and my organization that not only give me the opportunity to contribute my bit independently but also help people transform themselves to become more competent and successful being.
In 2017, I formally founded 'Deep Success Mantra Services' which primarily offer four kinds of services in specialised domains i.e Wellness, Corporate, Skills Development and Career.
But in order to meet these ever-changing and challenging needs of modern customers, I myself had to prepare a lot, therefore, I decided to simultaneously pursue as much as professional qualifications to help me gain knowledge and professional competent edge like Professional Coaching, NLP, Yoga & Meditation, Ayurveda & Naturopathy, Design Thinking, Emotional Intelligence, Business Management, Career Management and Psychology etc.
To think of a business as an entrepreneur is easier than actually doing it, so the struggle was evident in the beginning but that's where the difference is that your dream and passion can inspire you to hang on long until you succeed. Eventually, when you are sailing into an open ocean, you not only get to face challenges but also new opportunities and possibilities.
This is what I cherish now that I get to touch as many as lives possible and help them transform to succeed. Through our wellness Services, we have not only helped people to overcome diseases and medical conditions but also brought physical-mental wellbeing to many lives using an authentic amalgamation of yoga, Meditation, Ayurveda and Naturopathy. I get multiple global opportunities to work with many Corporates, Organizations and individuals to conduct various learning (Training) interventions, coaching and counselling sessions independently and successfully. Through our Centre based Skills Development & Career Service, we help many individuals to improve upon their competencies like communication, personality, interviews, relationships and careers.
You are always positive and motivated, what keeps you going?
As I mentioned earlier that your dream and passion can inspire you to hang on long until you succeed. It has always been a natural case with me, even as an employee while I was working for different organizations but now what keeps me going even stronger with dogged positivity and motivation is the opportunity to sail through my own ship for a bigger cause.
Also, I really get driven by the outcome while seeing people transform in real life through our services. It definitely keeps you going strong when because of your contribution, you see people healing, prospering, overcoming obstacles and creating their success stories in real life.
What attracts you towards entrepreneurship instead of a corporate career?
We all get inspired by great entrepreneurship stories but to be honest with you, initially, entrepreneurship never attracted me rather I sincerely could have continued working until one day, while travelling, I had a strong vision with open eyes and that vision was to do something different to make the most of my competencies and life.
I thought it was just a random thought but I never had such a profound experience before eventually, I kept pouring with these thoughts and I started keeping a track of these thoughtful ideas.
Right at the beginning of my career, I had developed a strong mantra i.e Instead of not doing and later regretting, it is rather better to do it and don't regret later. So here I am now.
'Deep Success Mantra' is such a unique name; talk us through more about it, please. Our audience would also love to know what kind of problem you are solving with the help of your startup?
'Deep Success mantra services' is a cradle abode of facilitation towards a transformational journey of success both collectively and individually.  In life, who does not want to be successful? 
The ultimate objective of all human efforts is to be successfully able to accomplish the set objectives through various endeavours as defined by self or social norms. There is no end to these objectives for example – What kind of reputed position of a job or career you have, how much wealth you have accumulated, what kind of knowledge you have, how eloquently you influence others, how physically and mentally fit you are, how are you nurturing your kids, how are your personal/professional relationships, what social impact your leave etc.
With us as a professional life & wellness coach, HR & Career Consultant, you just be sure of bringing your problems and be rest assured to get a solution because we strongly believe that every problem has a solution provided one can find it.
In pursuit of accomplishing individual or collective success, 'Deep Success Mantra Services' offers majorly four kinds of services i.e  Wellness, Corporate, Skills development and Career to ultimately facilitate individuals in their journey of accomplishing success using amalgamated resolutions of Psychology, NLP, EQ-IQ, Design Thinking, Coaching – Mentoring Tools, Adult Learning Methodology, Behavioural and Life Skills Tools, Yoga, Meditation, Ayurveda, Naturopathy, Hypnotherapy etc.
What are the key ingredients of your startup?
We have the following four key ingredients of our startup:
1 –

Wellness Services

– Yoga, Ayurveda, Naturopathy and meditation when practised together strengthen the mind-body connection, improving overall fitness and well-being. At our Wellness Studio in Dwarka called "Yogalaya", many styles of authentic yogic practices are combined with various discipline or methods of meditations as per requirements or needs. In Wellness Services, we offer two types of services like Studio Based Services: Curative & Preventive Yoga, Therapeutic Yoga, Beginner to Advance Yoga, Yoga Variations, Classical Hatha Yoga, Sukshma Vyama, Kriyas & Bandhas, Yoga Teacher Training, Kids Spl. Yoga, Sr. Citizens, Spl. Yoga, Parental / Pregnancy Spl. Yoga, Dynamic Meditations, Guided Meditations, Musical Meditation, Wellness Portfolio, Diet Management, Mantras & Healing, Stress Management, Personal Counselling, Personal & Private Sessions and External Services: Corporate Wellness Retreats, Quick Fix (Office Yoga), Health & Fitness Sessions, Outdoor Yoga, IKIGAI, Pursuit of Happiness, Any other requirements.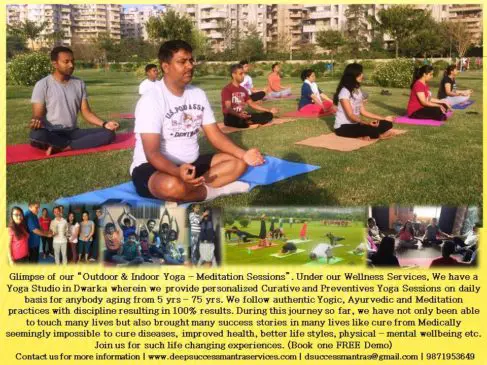 2 –

Corporate Services

– Every organization require resourceful employees who possess desired competencies to achieve individual and collaborated objectives, therefore, all organization spend a lot of time, effort and money in investing into various interventions like Training & Development, Employee Engagement, Organizational Development, Rewards & Recognition etc. which is significantly a must for organizational development and success. We not only offer standard services but also expertise in designing and delivering end to end tailor-made (Customized) services like Training & Development, Sales Training, Train the Trainer Program, Corporate Health – Wellness Program, Corporate Retreats, Leadership Programs, Employee Engagement Activities, Indoor-Outdoor Fun Activities etc.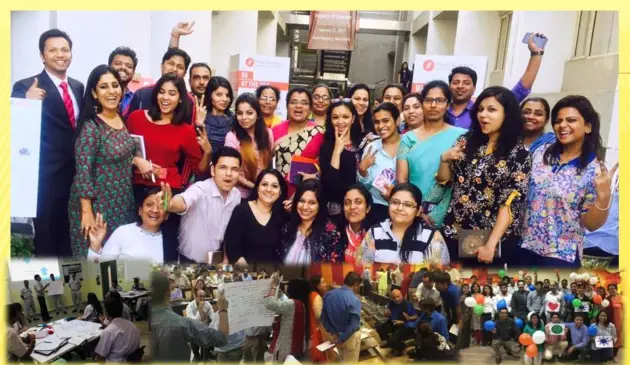 3 –

Skill Development Services

– In our competitive world only the fittest skill full resources survive. At Deep Success Mantra, Skills development is the process of identifying your skill gaps and designing a solution to developing and honing these skills. It is important because your skills determine your ability to execute your plans and achieve your objectives successfully like English Speaking Course, Grooming & Personality Development, Interview Preparation, Stress Management, Group Discussion, Writing Skills etc.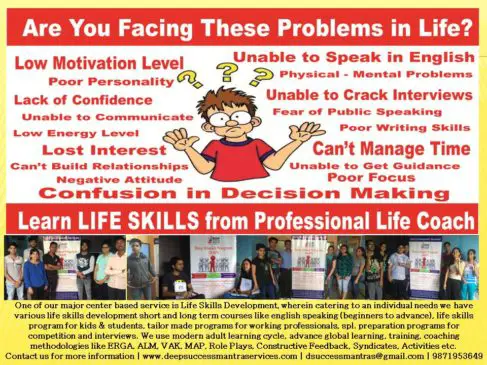 4 –

Career Services

– Career is a progressive professional journey of every individual therefore everybody requires assistance at regular interval especially at the start of a career. It's about making the right choices and moves forward to avoid troubling situations or getting stuck at a place. Also, work culture nowadays has increasingly become full of Competitiveness, stress and complexity, one has to be smart enough to handle day to day situation and people around therefore we offer services like Career Counselling, Succession Plan, Problem Solving at Work, Career Networking, Coaching & Mentoring etc.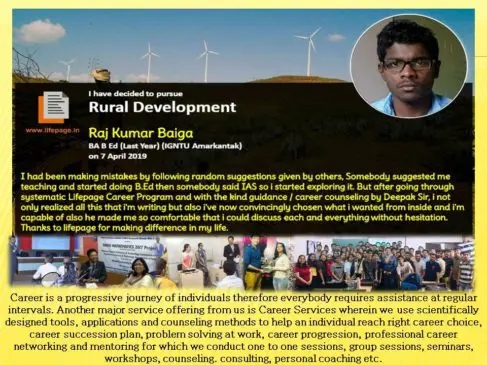 During this COVID-19 crisis, what are the measures you have undertaken to continue your business without disruption?
The Covid-19 global pandemic served the purpose of a boon in disguise for us as I could find more time to learn to acquire new skills and work on our social media platforms to expand more also simultaneously work on my business exigency plan while converting all our major services Online which eventually helped our reachability of services to expand more beyond geographical or territorial boundaries.
As we are based out of Dwarka, New Delhi therefore especially our Wellness, Skill Development and Career services were limited within the geographical territory. To cope up the business challenges without disruption during Covid-19, we started our global campaign called "Brining Life On-Line" through various social media platforms and we not only promoted our services but also got an overwhelming response for the same. We also discovered "SAFE-MODE" business operation plan while minimising our operational costs and using digital platforms for delivery of services which we will continue until everything settles down completely.
How do you manage yourself and keep on going despite the challenges? What drives you?
I always practice first before preaching anything, therefore, all the tools mentioned in our services are self-practised and needless to mention that I use these life skills tools to manage myself and their application help me to keep going despite the challenges also because I've realised my true purpose (Ikigai) therefore I wake up every morning thinking naturally what can be done rather what cannot be done.
For me, fear of failure is limited as both success and failure are part of the same process, as long as one is sincerely learning and adapting there is no failure.
Please share with us – what has worked well for you so far?
Well, for me few things that really worked well, are continuous learning, customer centricity and adaptability. Our success mantras services in all domains have really helped many of our clients experience real-life transformation and success.
Through our services, we have really been able to simplify complexity and help people create their own success stories. For examples, somebody losing 15 Kgs of weight, somebody recovering without sure-shot slip-disc surgery, somebody overcoming depression and addictions, somebody honed competency and got a promotion, somebody found passion through right career choice etc.
In your opinion – what is more necessary: Idea or a good team for a successful startup?
One size cannot fit all sizes therefore there is no sure shot opinion for a successful start-up however both idea and a good team should go successfully well hand in hand. Otherwise, we all know a good team without a concrete and well-defined idea and similarly an idea without a good or supportive team, can't sustain long.
We would love to know your advice for all those starting out as an aspiring entrepreneur?
I'll be keeping it short and simple here, my mantra (advice) for an aspiring entrepreneur is, "Instead of not doing and later on regretting, it is rather better to do it now and don't regret later".
Ultimately life remains as an open opportunity of possibilities until you explore it fully and as long as you are unceasingly learning and adapting, you cannot fail – Best of Luck.
Looking forward to seeing you in your journey of success, let's connect now
Follow Deep Success Mantra At:
Follow Deepak At:
Mobile

– +919871953649 
---
BrilliantRead is committed to bringing stories from the startup ecosystem, stories that reshape our perspective, add value to our community and be a constant source of motivation not just for our community but also for the whole ecosystem of entrepreneurs and aspiring individuals.
Note: If you have a similar story to share with our audience and would like to be featured on our online magazine, then please write to us at [email protected], we will review your story and extend an invitation to feature if it is worth publishing.