At BrilliantRead Media, we always strive to bring to our community some of the finest stories from the entrepreneurship world. As part of this endeavour, we invited yet another passionate women entrepreneur – Indira Majumder for an exclusive interview with us. Indira is an Entrepreneur, Leader, Numerologist, Coach, Influencer, Renowned Tarot and Oracle Reader, Change Maker and Astrologist. Let's learn more about her inspiring journey, her background and her advice for our growing community!
Excerpts from our exclusive interview with Indira

:
Talk us through your background and your journey, please;
I have found Tarot reading fascinating, something I was unaware of, that sparked an interest in me.
I wanted to reach out to people, heal them and guide them as I read and interpreted those 78 cards. It's been a journey of 6+ years as a Tarot Reader and since then there was no looking back!"
Along with being a certified Tarot and oracle card reader, I am an MBA in Human Resource from one of the oldest premier B-schools and has worked as a Human Resource Professional and Behavioral Trainer with renowned organizations for around 7 years and that skill has helped me to connect with the people at a much deeper level.
I not only guide people through my Tarot and oracle insights but also, I am a counsellor for them whenever they are in need. My vision is to heal people around when they are at crossroads and to instil positivity all around.
Currently, I have my own client based both national and international and I work as a certified astrologer under one of the renowned astrology platforms as well."
Till now I am grateful and honoured to have served more than 100 thousand minutes of reading for my clients and have healed and helped more than 500+ clients to overcome anxious thoughts, depression, and negativity by restoring relationship problems, helping to grow in careers, peaceful resolutions for personal problems and so on.
It is such a wonderful and fulfilling feeling to see so many smiling faces around and be a little part of it!

How did you discover your passion in 'Astrology'?
I have always been an intuitive child and I was fascinated with spirituality, reading about human personality, and a big believer in astrology, however, I never really thought of being one by myself.
A few years back, I was going through a tremendous bad phase concerning my personal life and One day, miraculously, I met a friend who introduced me to the world of tarot, and I promptly got connected with the beautiful divination card.
I was determined to learn each meaning and at first, I started reading for myself and started taking motivation from those cards and gradually I started doing it for my close ones as well. I somehow knew that I found my serendipity and my life purpose."
How do you manage to keep going despite the challenges? What drives you?
Empowering and challenging the myths, and stereotypes about astrological and healing/magical journey to have self-awareness and courage to do my own and treat others with the same is my drive to work in this field.
I believe to make people believe that
"life and universe never fails"

. It is important to understand that positive thought, true manifestation and power will shape up our lives.
I believe only we as a person can make or break our lives. That is what motivates me every single day and I try to instil these thoughts in my people as well."
At the end of the day, each success story, each smiling face and the blessings what drives me to do further and share happiness around.
What are the business mantras you have embraced as you sought to establish your success story?
Being there for people and doing good deeds are never out of fashion.
Who do you believe has been the biggest source of motivation in your daily life?
My

Parents

never gave up on me. They always pushed me to the level in such a subtle way, for things I thought I am not capable of.
They are my therapist. Another person, without whom I couldn't have continued what I started, is my

Husband

. The kind of support and freedom I get from him to shape up my life the way I want to be is beyond explanation.
He makes sure I do not have to take on any extra responsibilities or give any additional hours to certain homely things which are not necessary. He always motivates me to give as many hours as I wish for my vision to make it successful.
And finally, my mentor who always sees the good and power in me when I can't see it by myself.
What are some of the strategies that you believe have helped you grow as a person?
There are a few:
(1)

Being mindful and empathetic
(2)

Always being resourceful
(3)

Taking extreme ownership and responsibility for my actions
(4)

Ability to take risks & venture into the unknown.
What about your journey makes it satisfying/exciting?
Getting great feedback from those who have been inspired through my social media content, through my coaching sessions/programs amps up my energy to deliver more value to them. Seeing shifts in them and in their journey makes it satisfying because I see their success as my success and their breakthroughs as mine.
More recently, I received the
"Dada Saheb Phalke Award"

for Nari Shakti 2022 as recognition of my contribution towards the people and lifestyle development through the work I do and 100 thousand minutes of reading for my clients and have healed and helped more than 500+ clients to overcome anxious thoughts, depressions, negativity by restoring relationship problems, helping to grow in career, peaceful resolutions for personal problems and so on.
It is less about the recognition and more because it serves as a reminder from the Universe that I am on the right path.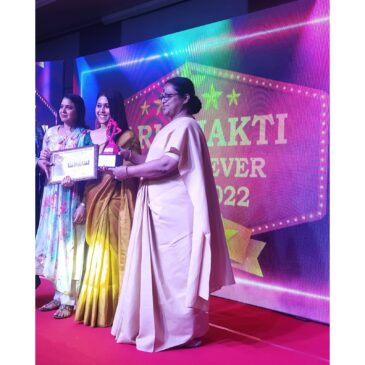 What are the expectations a client can keep attending your sessions and what changes can they see in themselves?
My clients can expect me to give them clarity of mind whenever they are at crossroads. I always like to spend time with my clients, be it counselling, discussing their issues, or just listening to them. I can assure my clients that I'll be with them whenever they need me to
You are always positive and motivated, what keeps you going?
My motivation comes from mindful meditation because I enjoy it. It is an exceptional way to boost mental skills, many studies and research have proven that.
I also read works by people I admire with uplifting material that reminds me of the power we all have within us. I read sacred textbooks as well to widen my perspective whenever I am at crossroads like I personally always refer to Bhagavad Gita."
Also, I like to keep an everyday journal highlighting small missions for the day and to what extent I am achieving them. These all show me where I was, where I am and where I want to reach.
Finally, when I see my clients having a moment and I get the privilege of witnessing their breakthrough, it's the most powerful stimulant I can imagine.
In your opinion, what are the keys to success?
I will say it straight that there are many factors but if you really have to have the key elements then to me these are the ones:
– Accepting & Loving myself.
– Taking Responsibility for my own actions
– Being in somebody else's shoes/ Empathetic
– Resourcefulness
– Always be grateful to those people who never doubt you
What advice would you give students and young professionals who want to have a successful career?
First things first, I would say, understand that your journey is yours alone, not everybody needs to understand your journey.
Through my personal experience, I would say, never stop believing, just go with the flow. No one has the vision to understand what is there for you or exactly what good things are waiting for you.
It is very important to understand where your passion lies, once you know it, educate yourself and gather as much information as you can, pertaining to your passion and take the leap of faith. Don't think about the outcome, just do your good deeds and positive things will come to you in expected ways.
Last but not least, elucidate the ways our readers can reach out to you to seek guidance under you.
One can always reach out to me through Instagram by messaging me or even emailing me. I take personal sessions over calls, virtually, video calls or even voice notes as per the convenience of my client, so, it is open as per their convenience and comfort.
Follow Indira At: 
---
BrilliantRead is committed to bringing stories from the startup ecosystem, stories that reshape our perspective, add value to our community and be a constant source of motivation not just for our community but also for the whole ecosystem of entrepreneurs and aspiring individuals.
Note: If you have a similar story to share with our audience and would like to be featured on our online magazine, then please write to us at [email protected], we will review your story and extend an invitation to feature if it is worth publishing.