We bring to you the exclusive interview with Mrs Nalini Sharma (Founder of Nalini's Kitchen). For those of you who don't know her, She is the face behind one of the fastest growing YouTube Channel Nalini's Kitchen.

She is a source of inspiration for many women entrepreneurs in India.
Let's have a look at the excerpts from the Interview with her.
1. What gets you out of bed in the morning i.e. what's your source of motivation?
As a house-wife, I would say the idea of spending time with my son and husband. A cup of tea with lovely talks with my husband and friends. At the same time, I also think about what new I can make for Nalini's kitchen in terms of recipes.
2. Where did the idea of Nalini's Kitchen come from?
It started about a year ago when I was having tea with my husband on the balcony. He was saying that I make good recipes why don't I teach others. So I thought why not use youtube that can get you to reach millions of users across the world. So I first started this channel in Hindi but later I started adding English subtitles under all the videos, which helped me reach the international audience. Most importantly, it is a result of my vision to combine my love for cooking and sharing it with everyone.
3. What challenges/obstacles did you face in your journey so far?
Initially, it was difficult to get subscribers and views for the channel, then my hard work seems to be wasted. Since I enjoy cooking, I kept on shooting new videos and gradually Nalini's Kitchen a big name in the Kanpur city, I get several judging invitations, interview requests within and outside the city.
4. Tell your audience more about your failures? How should one bounce back?
I have a Bachelor from B.H.U, Varanasi, and Masters from A.N.D, Kanpur. Despite the degrees, I could not work after the marriage but now after Nalini's kitchen, I feel that my mind is all active again, I can think creatively, work willfully. So, I would suggest that in life, make peace with the situations and use available resources for your own benefit, there is always a way out.
5. Your Youtube Channel has become popular within a short period of time? What is your advice for people?
Work honestly, produce fresh content, keep interacting with your audience, use social media for your benefit, don't hesitate to help others even if he/she is your competitor.
6. Why did you choose entrepreneurship?
As a housewife, I have the responsibility of the home, my son, husband and family. So, for me, it was hard to commit if I decide to work as a chef or any other work under any institution. Nalini's kitchen gives me the option to be creative, engaged, follow my passion, all inside the boundaries of my home.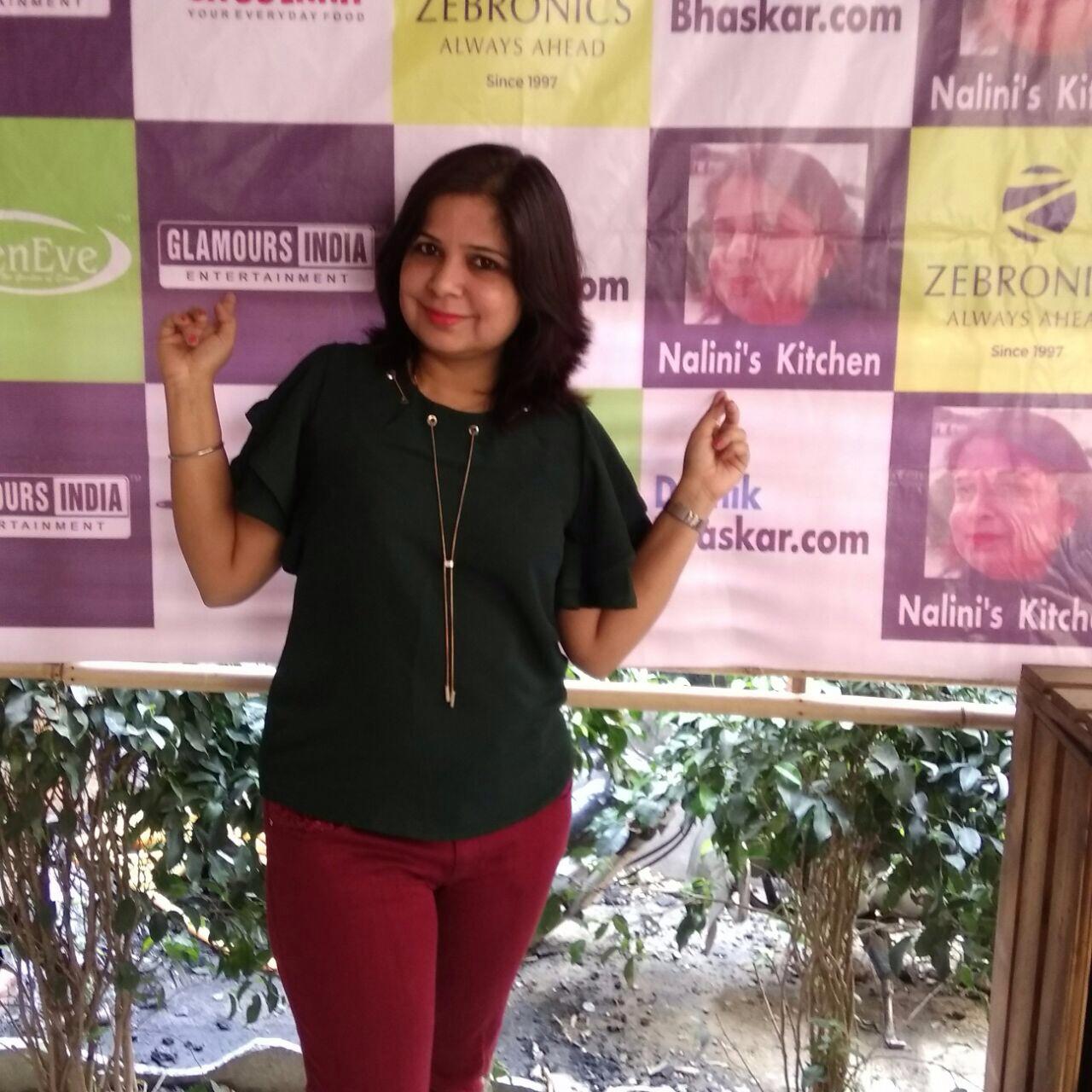 9. How do you handle the pressure?  

By following my hobby and engaging in spiritual works. I love dancing, hanging out with my lady friends, talking to my husband, playing with my son. These small things help me overcome any pressure. I also enjoy bhajan, worshipping Krishna a lot, more often than not I sing bhajans to keep my mind calm. I believe if I will be happy, only then I can keep others happy, that in turn makes you a better person from within.
10. What is your plan for the future?
With God's grace, I want to open my own restaurant or cafe and open some small business to help needy women, women who want to stand on their feet.
Thanks to Nalini Ji for taking some time from her busy schedule for this interview with our senior editor.
She has a massive fan following and has featured in many daily journals like Dainik Bhaskar, Amar Ujala and more. She has also been a part of many food festivals and events as a guest. As we write this article, Nalini's Kitchen Youtube Channel has gained 22000 Subscribers and growing.
Please Follow Nalini's Kitchen 
Youtube channel link: https://www.youtube.com/c/naliniskitchentips
Facebook: https://www.facebook.com/nalinikitchen/
Instagram: https://www.instagram.com/nalinis.kitchen
Twitter: https://twitter.com/nalinis_kitchen
(If you have a similar story to share with our audience and would like to be featured on our online magazine, then please write to us at [email protected] and our team will get in touch with you. Please do share your contact details in that email)