As part of our endeavour to identify and share some of the unique and compelling stories from India and around the world, we invited yet another passionate entrepreneur Rima Sunit for an interview with us to understand more about her inspiring entrepreneurial journey so far. She is the co-founder of Healthnovo. Healthnovo is a healthcare start-up engaged into providing cost effective services in a hybrid way. Let's learn more about her journey and her advice for our growing community!
Excerpts from our exclusive
 interview with Rima

:
Please tell us about your background and journey of becoming an entrepreneur and starting your own venture.
I am from Mumbai and belong to a working-class Marathi family.
Professionally, I am a chartered accountant and I have worked for almost 12 years with brands like Ernest and Young, Wockhardt, Otis, and Pidilite.
Nobody from my family has their own businesses nor do I have previous entrepreneurship experience."
Therefore, starting Healthnovo is a new experience altogether. While working with corporates, I always had an urge to create values for myself and others however that was not being satiated. And when you can clearly see all the problems that exist around you and you are in a position to solve them, then all you have to do is take the first step in the right direction.
What attracts you towards entrepreneurship instead of a corporate career?
In a corporate set up when you work at the mid-management level you feel restricted and not every day you feel that you are creating something meaningful for yourselves as well as for others."
I think for me it was not a moment but a phase. Also, when you see that you have the ability to solve problems around you, you don't mind taking a risk and going for it.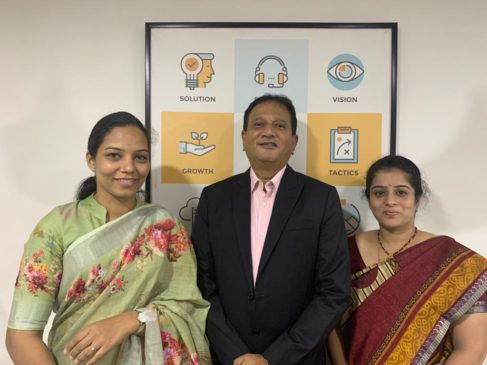 'Healthnovo' is such a unique name; talk us through more about it, please. Our audience would also love to know what kind of problem you are solving?
'Novo' in Latin means NEW. Healthnovo is into the deployment of First Mile Clinic which is a completely new concept and with plenty of innovative point of care solutions embedded in our clinic services.
We deploy our clinics to provide comfort and accessibility to healthcare consumers. They can avail these services in person and digitally too. People who are comfortable using smartphones can benefit from our services from the comfort of their homes. Another unique feature is, we extensively use POCT solutions for indicative screening services."
There are so many cost-effective options available so that users can constantly monitor their vital health parameters regularly. Healthnovo is attempting to create awareness around such solutions in the most appropriate way.
What does your company specialize in?
Healthnovo mainly specializes in providing primary healthcare services in a cost-effective way. We aim to provide doctor consultation, indicative diagnostic screening and generic medicines supplies at one location.
Therefore, users visiting the clinic get a 360-degree solution to their problem conveniently, in one place. We invest our resources in identifying versatile techniques where Healthnovo can cater to users for their immediate medical needs.
During this COVID-19 crisis, what are the measures you have undertaken to continue your business without disruption?
Healthnovo was set up just last year when the pandemic was at its peak and therefore from day one, we maintained a disciplined approach. For starters, we identified opportunities that can support our mainstream businesses e.g., trading in essential goods such as sanitisers, masks, PPE kits etc.
Please tell us about the challenges that you faced along the way.
There were quite a few challenges that I felt along the way. I was unassertive about the responses from the users since we started this at the peak of the pandemic.
Additionally, I also had to think about managing my family along with my professional life without any domestic help. Lastly, the main challenge I faced was surviving without a fixed income till the time Healthnovo became profitable. The few challenges that I faced were hiring the right talent for the job and managing them remotely, reaching out to customers to pitch the idea I envisioned.
But majorly I think the toughest part was living without having a fixed salary and having to manage work and family time without any domestic help.

What are some of the strategies that you believe has helped Healthnovo to grow as an agency?
We have adopted a route of strategic partnerships so as to develop an overall healthy ecosystem around us. We decided to hire people on an incentive basis who are compensated for their deliverables instead of recruiting people and committing to the fixed employee cost. In order to make our services more affordable, we use point of care medical devices for primary diagnosis which are easy to use
What are the three most important lessons you have learned building your startup?
Encountering this roller-coaster ride has taught me so many things including mistakes that I learned from. More importantly, the one thing that I learned is, building and maintaining relationships is a primary factor. Secondly, the need to avail constant and genuine feedback from stakeholders. This improves the quality of the services and therefore never refuse any kind of conversation with the consumers/ stakeholders.
Along the way, I also gathered that if we take that first bold step to break the shackles of our fear, we can create wonders. Lastly, running your own venture is like raising your own baby. You end up doing whatever it takes to protect your child and raise him/ her in a safe environment.
Similarly, you explore all the possible ways to create a success story for your venture. It amazes me that Healthnovo is actively creating employment opportunities for so many people whereby in the last 11 months, the rate of unemployment has increased gravely.
Follow Healthnovo At:
---
BrilliantRead is committed to bringing stories from the startup ecosystem, stories that reshape our perspective, add value to our community and be a constant source of motivation not just for our community but also for the whole ecosystem of entrepreneurs and aspiring individuals.
Note: If you have a similar story to share with our audience and would like to be featured on our online magazine, then please write to us at [email protected], we will review your story and extend an invitation to feature if it is worth publishing.