At BrilliantRead Media, we always strive to bring to our community some of the finest stories from the entrepreneurship world. As part of this endeavour, we invited yet another passionate entrepreneur – Sharada Subramaniam for an exclusive interview with us. Sharada is a Leadership Coach, Keynote Speaker, Author, Mentor, Yoga and Wellness Consultant, Entrepreneur and Former Senior Civil Servant. She is the Founder of Sacred Spaces- The Excellence Laboratory. Let's learn more about her inspiring journey, her background and her advice for our growing community!
Excerpts from our exclusive interview with Sharada:
We are aware that you have been a successful bureaucrat and now you have become a well-respected leadership and purpose coach. Please talk us through your background and your journey.
I owe my life's journey to the deep values and solid upbringing that I was brought up with. I am Tamil speaking but was born in Patna, and raised in Bihar and Delhi. I have served in different places across the country – Karnataka, Himachal, Delhi and Rajasthan and have been married for the past 27 years to Sandeep, who is from Odisha.

 
So you can say I represent a microcosm of India. I speak five languages and love meeting new people. My childhood was a very happy one and my sister and I were privileged because our father was a very senior bureaucrat with the Government of India. Our mother was also a working professional, first as a university teacher and then as a senior advocate.
We were a simple middle-class family with limited resources, but we had access to travel, to the best education, to meeting new people from different regions and different cultures.
The eclectic discussions at home over the dining table, the spiritual teaching we received and the dance and music lessons we took gave us well-rounded personalities and inquisitive minds."
I studied at premier institutions in Patna and Delhi and graduated in Political Science (Hons) from the Lady Shriram College Delhi. I went on to do a master's in International Relations at the Jawaharlal Nehru University. I joined the Government of India after qualifying in the UPSC civil services exam in my first attempt.
I served the government in many senior positions, including at the Comptroller and Auditor General office, Coffee Board of India, the Karnataka Governor's Secretariat, Rajya Sabha Secretariat, etc."
My quest for learning continued even beyond my service as I took on a Law degree from the Utkal University, Odisha and a PGPPM (MBA in Public Policy) from the Indian Institute of Management, Bangalore.
After serving the government in several senior positions, I left to take care of my ailing mother. That brought me close to the Alzheimer's Society of India, where I am still an active volunteer.
I also started learning yoga, and became a serious student of Vedanta and Indian philosophy. That is when I realised that I had to turn to finally taking up what my heart always wanted to do."

What made you passionate about 'Coaching'?
In all my years as an officer and bureaucrat, I enjoyed mentoring my colleagues, staff, and their families. I also worked as head of training divisions in the CAG set up as well as in the Parliament of India. These assignments gave me huge experience in designing and curating programmes and delivering lectures. Public speaking was also part of my regular work.
So naturally, I was drawn toward coaching and motivational speaking. Moreover, I felt it was my purpose to serve society as a coach and help people. I almost feel like this is my true calling."
I decided to join the Licenced Purpose Coach Community of Edify Labs to join a

 

coaching community and get certified as a personal coach. My vast and varied experience, academic degrees, and pursuits of my hobbies have made me a very unique coach who can handle sessions on a wide spectrum of subjects- personal growth, leadership, entrepreneurship, stress management, wellness and spirituality. 
Another important aspect is that many of my programmes are catered to serve people. I am a yoga instructor and offer free yoga sessions every morning to a large group of over 50 people, many of them senior citizens. I also organise talks on mental health and coping with stress. These sessions were particularly very well received during the lockdown and when the Covid-19 virus was ravaging us.
I am also holding weekly mantra chanting sessions on different Vedic mantras every Sunday morning. I coordinate a Bhagavad Gita training course as well. In addition, I am an active part of LPCC, and I have coached over 50 personal clients, women, teenagers, entrepreneurs and professionals. 
I professionally coach people in leadership and career growth, entrepreneurship, self-growth and wellness, and women empowerment. My coaching career is just beginning and in January this year, I established Sacred Spaces, my own coaching venture. I have a good network of successful leaders and coaches who assist Sacred Spaces."
How do you manage to keep going despite the challenges? What drives you?
My life has been one of many challenges and setbacks. But I have learned to maintain equanimity and remain cheerful through my worst times. All thanks to my spiritual learnings, my daily practice of yoga and meditation, and my extremely loving and supportive family.
I have also been fortunate to have some wonderful friends who have stood by me through thick and thin. Over and above all this, the blessings of my parents have been always with me. 
The thrill of coaching and talking to young minds is unbelievable and the satisfaction of mentoring and helping a client overcome his or her challenges is immense. I am seeing my purpose fructify and am working to bring change in society.
For years I was known only for the position I held in my organisation. Today, every appreciation I receive is mine alone, and that is very fulfilling. To see a client transform into the best version of himself after my sessions makes me emotional and happy."

Who do you believe has been the biggest source of motivation in your daily life?
My children

Avinash

and

Aditi

keep me going. They encourage me to keep moving forward.
It isn't easy to start a venture on your own after so many years in the government and there were dark days too when I did not know where I was headed."
My son and daughter have kept me strong and motivated. My sister

Jaya

and my husband

Sandeep

are also huge cheerleaders for my work.
What are some of the strategies that you believe have helped you grow as a person? 
> The strategies that have helped are:
> Living in the present and being mindful
> Staying connected with my oldest friends
> Learning and upgrading my skills regularly 
> Being diligent with work.
> I also practice gratitude and meditation. I also write and journal a lot to create new and innovative ways of helping my clients.
> I believe coaching is a very serious and disciplined service, it is my purpose, and that is how I approach every assignment.
You are always positive and motivated, what keeps you going?
My motivation to stay positive comes from my children, my friends, music, and conversations with people from different walks of life.
The motivation to work hard,

 

innovate and stay disciplined comes from the desire to master my skill, to keep learning
something new, and fulfilling my purpose. I also try to set boundaries so that I don't get bogged down by my client's problems.
I maintain a disciplined daily schedule of yoga, meditation, reading, music, and spending time with loved ones. I make time for people, ensure that I travel, go on vacations, eat good nutritious food and do not complain too much. I have learnt not to compare my life with anyone else's and that keeps me happy and positive."
Please share with us, how do you motivate your clients?
I motivate my clients by providing a safe platform for learning, experience-sharing, and expression. I always relate their challenges and setbacks to other real-life experiences and share stories from my own life as well. I also try to bring their issues into perspective. Besides, my vast experience and reading, as well as my attention to detail always inspire them.
I keep my sessions free of time limits and allow my clients the time to feel comfortable before they start. In group sessions, I take the whole group along, give attention to each participant, and ensure that there is proper mentoring and guidance. I have a team of brilliant young coaches who assist me in providing material and assisting the clients with assignments and presentations."
Another important feedback I get is that I am extremely versatile and can shift gears in any programme to suit the participants. I am good at assisting the participants to come to definitive solutions, arrived at purely for them. I strongly believe that each client is unique, and needs special care and advice to really blossom. I also provide each client with a specially designed toolkit to work with and ensure follow up through calls and other feedback.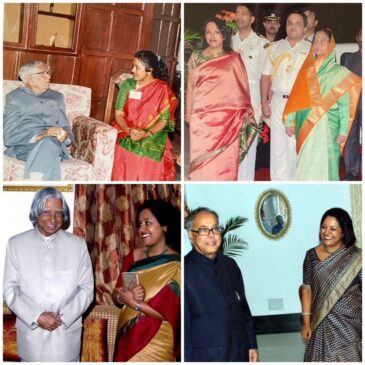 What are the business mantras you have embraced as you sought to establish your success story?
My business mantra is to work as a reliable and accessible brand, where quality and learning are emphasised.
I know what I bring to the table and hence I expect the same hard work and commitment from the client as well.
Coaching is a vast discipline and thanks to my unique experiences, I have a vast range of coaching services I offer.
I have created a platform called Sacred Spaces- the Excellence Laboratory through which my programmes are offered. My dream is to coach and impact over a hundred thousand people with my programmes, my social media posts and my workshops and talks.
In your opinion what are the keys to success?
There are many factors but some that I believe definitely help are:
(1)

Hard work and discipline
(2)

Courage and Conviction
(3)

Consistency
(4)

Clarity of purpose
(5)

Failures- they teach a lot
(6)

Support of family, friends and mentors
(7)

Constantly upgrading knowledge

 

and re-learning skills
What about your journey makes it satisfying/exciting?
My entire career of 30 years has been full of challenges, excitement and new learnings. As a government servant, I had the opportunity to learn about administration, public service, policy-making and analysis, government finance and accounting, protocol as well as the functioning of universities. I have met some of the top political leaders, Heads of State and Industry leaders.
I have the opportunity to work in close quarters with some of them. I have learnt from every boss, colleague and subordinate. This gives me a huge sense of pride and satisfaction. Even the challenges and troubles have been very helpful in building my strength and helping me become a good coach.
As a coach the wonderful feedback I get from my clients, whether it is in terms of improving their health, their career or their personal growth is extremely satisfying. As I mentioned earlier, in my previous avatar as a bureaucrat, I worked within a system which supported and gave me an identity. Today I have made my own identity, it is my effort and my passion that give me great happiness.
I am particularly happier with the pro bono work I do with economically disadvantaged people, with the elderly and for yoga and wellness. The excitement of meeting new clients, finding new challenges to resolve, and helping people bloom and succeed is simply too good to be described.
What advice would you give students and young professionals who want to have a successful career?
My main advice to all students and young professionals is to be yourself. Do not be afraid to dream and pursue the dream.
There is no substitute for hard work and discipline but everyone has their own individual journey and that should be clear. Keep learning and growing, and whatever you receive from the world, remember to pay it back by serving others. 
To have a successful career, choose your career wisely. Ensure that it aligns with your core values. Do not chase money, it will come to you when you are in the right place. Most importantly, keep asking experts, coaches and mentors how to proceed. Do not be afraid of making corrections and mid-course changes if you find yourself like a fish out of water.
This is true in both academics as well as professions. The key is to find happiness, balance and success in one place. Have patience, some peak at 30, and there are others who only peak by 60. Always keep the long term perspective, but keep focused on the smaller goals.
Follow Sharada At: 
Get in touch with Sharada for various coaching programmes:
---
BrilliantRead is committed to bringing stories from the startup ecosystem, stories that reshape our perspective, add value to our community and be a constant source of motivation not just for our community but also for the whole ecosystem of entrepreneurs and aspiring individuals.
Note: If you have a similar story to share with our audience and would like to be featured on our online magazine, then please write to us at [email protected], we will review your story and extend an invitation to feature if it is worth publishing.