Top 45 J Cole Quotes And Sayings
Who is J Cole?
Jermaine Lamarr Cole, better known as  J. Cole, is an American hip hop artist and record producer
Famous for:
J Cole is an extremely popular rapper and has won Grammy and the Best Mixtape Award. He was nominated for many prestigious awards.
Popular Songs/Albums  (Top 7 J Cole Songs)
"Can't Get Enough", "No Role Modelz","Crooked Smile","Power Trip", "Work Out", Wet Dreamz, 4 Your Eyez Only and Many more
Top J Cole Quotes/Sayings/Punchlines
A little jealousy in a relationship is healthy. It's always nice to know someone is afraid to lose you."- J Cole quotes on relationship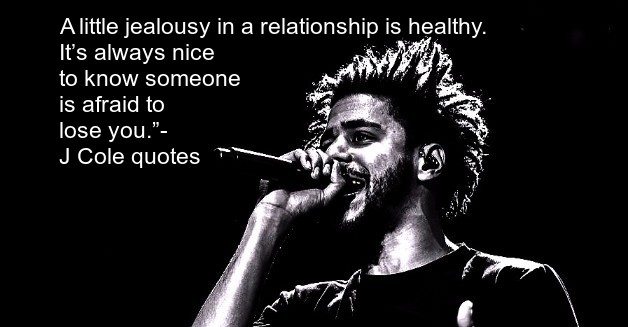 "There's a story behind every person, a reason why they are the way they are. So, think about that before you judge someone." – J Cole Quotes
"It's beauty in the struggle, ugliness in the success." – J Cole
"Nothing lasts forever, but at least we've got these memories."- J Cole
As we grow up, we realize it becomes less important to have a ton of friends & more important to have real ones"- J Cole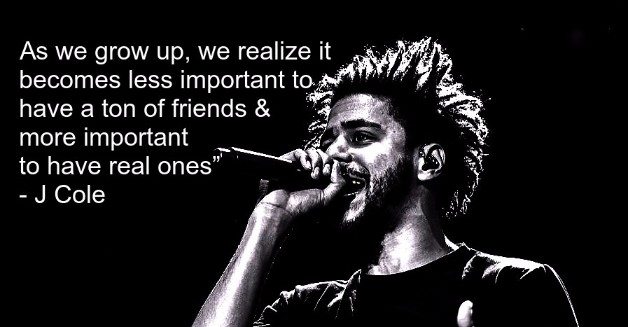 "One thing you should know about me is I never play to lose. Always aim high and rarely obey the rules."- J Cole
"To appreciate the sun, you gotta know what rain is."- J Cole
9th of 45 Top J Cole Quotes and Sayings
"My life accelerated but had to wait my turn. But then I redecorated, that means my tables turn."- J Cole
"It's no coincidence that all the greatest rappers – whoever you put in your top five – I guarantee you they are great storytellers."- J Cole
"You are perfect exactly as you are. With all your flaws and problems, there's no need to change anything. All you need to change is the thought that you aren't good enough."- J Cole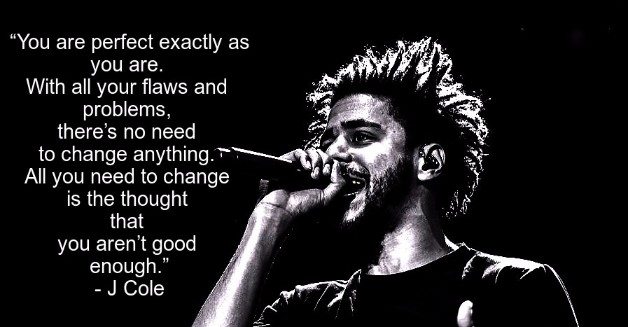 "You can't reverse fame. You can lose all the money, but you'll never lose people knowing you."- J Cole
"I struggled with being a broke college graduate, and while all my friends were getting career jobs, I was working horrible part-time jobs. That's why now, even when I get tired, I think, 'This is what I asked for."- J Cole
"I'm half-black, half-white, so I basically put it like this: I can fit in anywhere. That's why I write so many stories from so many different perspectives because I've seen so many."- J Cole
"I had a lot of resistance, and not just to fame. I was always conscious of not changing."- J Cole
"In a game full of liars it turns out that I'm the truth. Some say that rap's alive. It turns out that I'm the proof."- J Cole
"Anything's possible, you gotta dream like you never saw obstacles."- J Cole
17th of 45 J Cole Quotes Punchlines 
"People congratulate me. I just tell them God is good."- J Cole
"I'd rather be happy being myself than sad trying to please everyone else."- J Cole
"Hard to move on when you always regret one."- J Cole
"I'm here to spread a message of hope. Follow your heart. Don't follow what you've been told you're supposed to do."- J Cole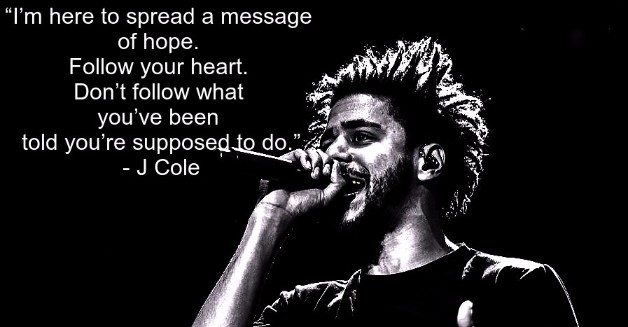 "I have a little bit of that gamer spirit in me. I just don't have the time to be a gamer. But in another life, I would be one."- J Cole
"I've always been an underdog. I feel like I beat the odds."- J Cole
"I always feel like it's two key ingredients when it comes to following your dreams, making something happen that the average person deems difficult. If you truly believe it, that's step one. Step two, is, you know, the hard work that goes along with it."- J Cole
"I put a lot of pressure on myself. I think something's not good enough, and I won't stop until I feel like I've made it. I'm never satisfied."- J Cole
 25th of 45 J Cole Quotes and Sayings
"I'd rather be happy being myself than sad trying to please everyone else."- J Cole
"I feel like this: Whatever is in your path and in your heart, you need to do."- J Cole
"If I was to go to sleep before midnight, I would feel weird about myself, like I wasted a day. My most productive hours are between midnight and five."- J Cole
"In this life ain't no happy endings. Only pure beginnings followed by years of sinning and fake repentance."- J Cole
"The same ones you love will bring you pain."- J Cole
"Follow your heart. Don't follow what you've been told you're supposed to do." -J Cole
"No such thing as a life that's better than yours, no such thing – no such thing…"- J Cole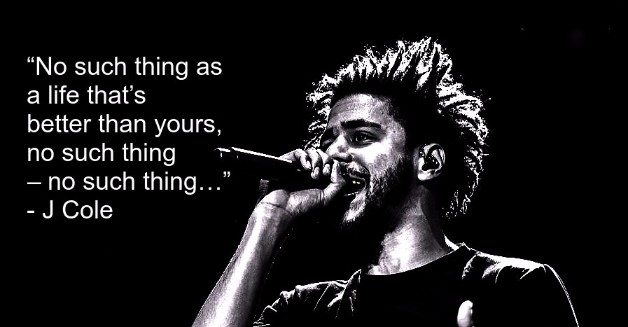 "We got dreams and we got the right to chase 'em."- J Cole
"I keep my head high, I got my wings to carry me. I don't know freedom, I want my dreams to rescue me."- J Cole
"People think because I've got some success, I've made it, but in my eyes, it's like, 'How long has Jay Z been in the business? How many albums has he got?' Not that I'm trying to be Jay Z, but I am trying to be around for a long time."- J Cole
"Life is a movie, pick your own role, Climb your own ladder or you dig your own hole."- J Cole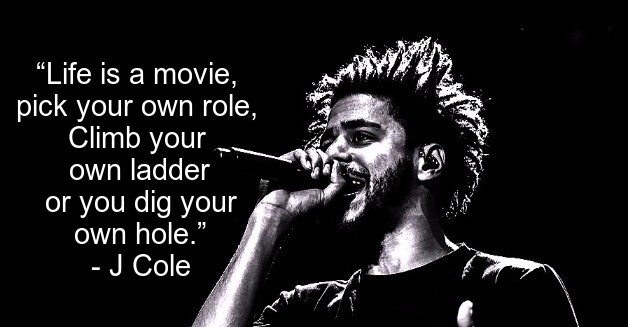 "Never give up until you've given out all your very best. It's better to fail trying, than wondering what could have happened if you tried."- J Cole
37th of 45 J Cole Quotes/Sayings/Punchlines
"Anything I do, I want to do it well."- J Cole
"If they don't know your dreams, they can't shoot them down."- J Cole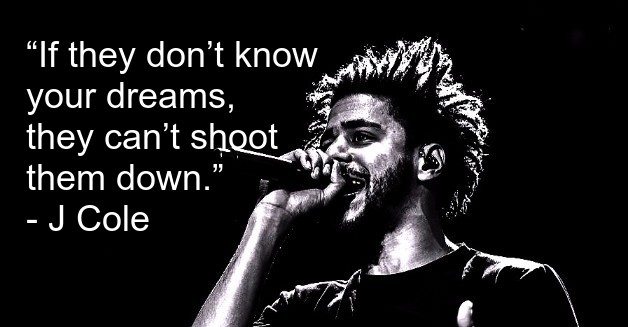 "Keep grindin' boy, your life can change in one year, And even when it's dark out, the sun is shining somewhere."- J Cole
"I'm a super-duper over-analyzer. You mix that with self-doubt and pressure, and that's never healthy."- J Cole
"Take a chance, because you never know how perfect something can turn out.- J Cole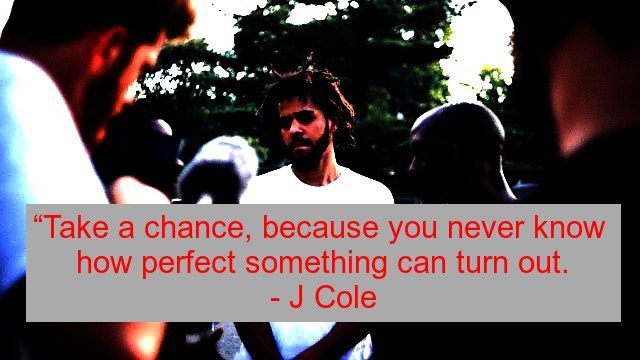 "They say time is money but really, it's not. If we ever go broke, time is all we got."- J Cole
"Sometimes our dreams come true, sometimes our fears do too."- J Cole
"I want people to follow their dreams, yes… but I'm not interested in telling young black kids how to be rappers… I want to show them that there are so many other paths you can take, besides a rapper or basketball player."- J Cole
Please Subscribe to Brilliant Read for Similar Articles