Best Lionel Messi Quotes On Soccer, Life, Success, Money and Fame
Before we look at Best Messi Quotes, Lets find out a bit more about him.
Full Name – Lionel Andrés Messi Cuccittini
Born –  24 June 1987
Nationality – Argentine
Club – Barcelona (Spain)
National Team – Argentina
He is often considered the best player in the world and regarded by many as the greatest of all time. He has garnered a huge fan following because of his humility and perseverance. 
Lionel Messi's NETWORTH

– $100 to 150 Million Approx.
Best Lionel Messi Quotes
"What I do is play football, which is what I like." – Lionel Messi
"Goals are only important if they win games." – Lionel Messi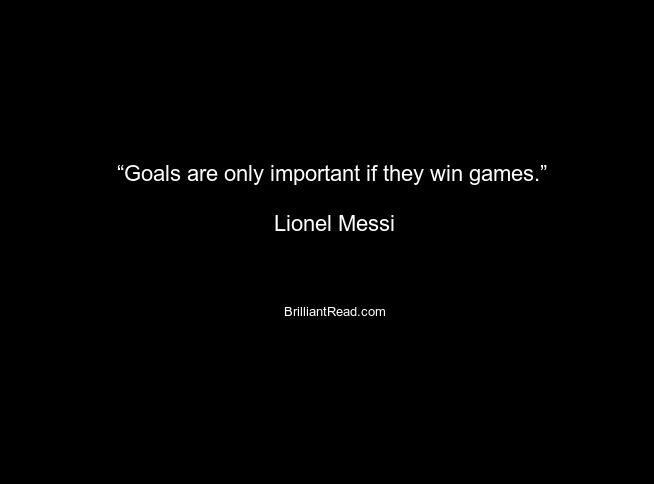 "I start early, and I stay late, day after day after day." – Lionel Messi







"You have to fight to reach your dream. You have to sacrifice and work hard for it." – Lionel Messi







"My ambition is always to get better and better." – Lionel Messi





 
"You have to fight to reach your dream. You have to sacrifice and work hard for it." – Lionel Messi
"My ambition is always to get better and better." – Lionel Messi
"There's nothing more satisfying than seeing a happy and smiling child. I always help in any way I can, even if it's just by signing an autograph. A child's smile is worth more than all the money in the world." – Lionel Messi
"It took me 17 years and 114 days to become an overnight success." – Lionel Messi
RELATED: Top 20 Inspirational MS Dhoni Quotes On Success, Failure and Life
"You can overcome anything, if and only if you love something enough." – Lionel Messi
"There are more important things in life than winning or losing a game." – Lionel Messi
"What I do is play football, which is what I like." – Lionel Messi

"Something deep in my character allows me to take the hits and get on with trying to win." – Lionel Messi
"Barcelona is my life, they have brought me to where I am today, I could not leave, I don't want to leave. My heart stays with Barcelona." – Lionel Messi Quotes about Barcelona
"The day you think there is no improvements to be made is a sad one for any player." – Lionel Messi
"I used to serve tea at a shop to support my football training." – Lionel Messi
"I don't consider myself the greatest player in Barcelona's history. Because I know it's Ronaldinho. I still remember that he was the one who assisted my first ever Barcelona goal. He wasn't simply passing the ball, he was passing the torch to me." – Lionel Messi
"Goals are only important if they win games." – Lionel Messi
"I am competitive and I feel bad when we lose. You can see it in me when we've lost. I'm in a bad way. I don't like to talk to anyone." – Lionel Messi
"Money is not a motivating factor. Money doesn't thrill me or make me play better because there are benefits to being wealthy. I'm just happy with a ball at my feet. My motivation comes from playing the game I love. If I wasn't paid to be a professional footballer I would willingly play for nothing." – Lionel Messi
"I made sacrifices by leaving Argentina, leaving my family to start a new life. I changed my friends, my people. Everything. But everything I did, I did for football, to achieve my dream." – Lionel Messi Quotes on Aregentina
"Sometimes you have to accept you can't win all the time." – Lionel Messi Quotes on Failure
"I start early, and I stay late, day after day after day." – Lionel Messi
"In football as in watchmaking, talent and elegance mean nothing without rigor and precision." – Lionel Messi
"The best decisions aren't made with your mind, but with your instinct." – Lionel Messi
"I prefer to win titles with the team ahead of individual awards or scoring more goals than anyone else. I'm more worried about being a good person than being the best football player in the world. When all this is over, what are you left with? When I retire, I hope I am remembered for being a decent guy." Lionel Messi Quotes on winning
"This is why I didn't go out to parties and many other things. I am successful because I made sacrifices for success." – Lionel Messi
"I have fun like a child in the street. When the day comes when I'm not enjoying it, I will leave football." – Lionel Messi
"Every year I try to grow as a player and not get stuck in a rut. I try to improve my game in every way possible. But that trait is not something I've worked on, it's part of me." – Lionel Messi Life Quotes
"I never think about the play or visualize anything. I do what comes to me at the moment. Instinct. It has always been that way." – Lionel Messi
"When the year starts, the objective is to win with all the team, personal records are secondary." – Lionel Messi
"Being a bit famous now gives me the opportunity to help people who really need it, especially children." – Lionel Messi Quotes 
"I think my desire to always get better, to always want more, to always be my top critic, and accepting the good and the bad." – Lionel Messi
"I've always really just likes football, and I've always devoted a lot of time to it. When I was a kid, my friends would call me to go out with them, but I had practice the next day. I like going out, but you have to know when you can and when you can't." – Lionel Messi
"I do it because I love it and that's all I care about." – Lionel Messi Quotes on Soccer