Andy Frisella Bio, Net Worth And Best Quotes
Who is Andy Frisella?
Andy Frisella is an Innovator, Author, Health and Fitness Mogul and wildly successful Entrepreneur. He is the owner and co-founder of several companies such as 1st Phorm International, Supplement superstore, Paradise Distribution and MFCEO Project.
His companies have over 100 million in sales.
Net Worth: – His Networth is estimated to be over 15 Million (variable).
Best Andy Frisella Quotes/Sayings :
"Be brave enough to go after what you really want. Be strong enough to pick people up and bring them with you." – Andy Frisella
"the only person that limits you stares back at you in the mirror every single day" – Andy Frisella best motivational Quote
"You are the only one who can stop you."
"Lots of people wanting everything and doing nothing."
" Turn your scars into strengths" – Andy Frisella
 "There is no what if, if you do the work on a worthy plan the result will be there."
"Remember the days you prayed for the things you have now."
"Quit feeling sorry for yourself, make shit happen."
"Everything you see, touch or use in your daily life started as just a single thought." –
"Instead of thinking how hard your journey is, think how great your story will be." –
"99% of people let others opinions and beliefs keep them from ever living the life they want." – Andy Frisella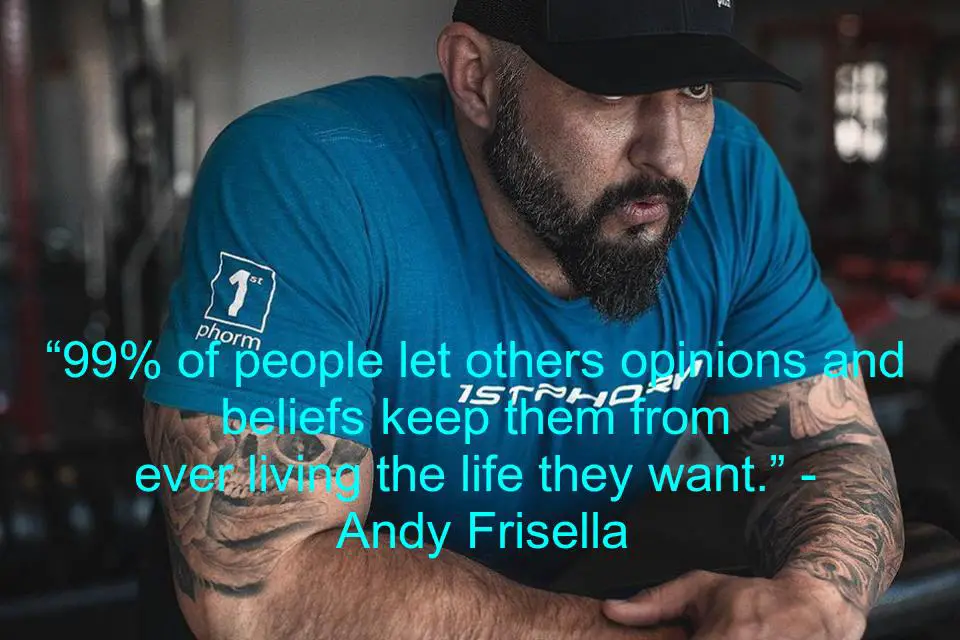 "The only thing relevant to your success is your actions."
"Inside every self-made man is a poor kid who followed his dreams."
 "I'm a regular dude who made a daily list of critical tasks that needed to get done, and I did them."
"The reason people don't succeed is because they don't do the work."
"Dream so big everyone thinks you're crazy, no matter what they think about it. The only person that limits you stares back at you in the mirror every single day."
 "It's not luck, it's not magic, it's not circumstances. It's developing a great plan and EXECUTING on it, day in and day out until the visions in your head become your reality."
"You are where you are because of you." – Andy Frisella Quotes
"There are no super-humans, just humans, and what one man can do, another can do." – Andy Frisella Quotes
"Will your story be one of ultimate fulfillment and success through the maximisation of your potential by overcoming tremendous difficulty and inspiring millions to be better?. Or will it be one of what could have been?."
"What you think about, dream about, talk about and focus on will become your life." – Andy Frisella
 "Free your mind to dream huge. Free your heart to believe its possible."
"Don't let the constant pursuit of and drive for success keep you from appreciating and being grateful for what you have now."
"Everyday is a win or a loss." – Andy Frisella quotes
"Most people in life wait. They wait and put off the things they truly want to be in their heart for "Tomorrow" the mystical place where 99% of all dreams, human achievement & potential greatness goes to die."
"Your mind & focus are far more powerful than you could ever comprehend."
"Nothing great is given, You earn it." – Andy Frisella
"Yes, finding success is going to require you to make sacrifices and be uncomfortable."
 "Honest gratitude for what you have is one of the biggest accelerators for future success."
Do share it with others.
Subscribe to our website for Motivational and Self improvement articles