Lisa Nichols Bio, Networth and Quotes/Sayings
Who is Lisa Nichols?
Born – 9th May in Los Angeles, California, United
Lisa Nichols is a successful Entrepreneur, Motivational Speaker, Author, and CEO of the company Motivating the Masses.
Net Worth:  5 – 7 Million (Variable)
She struggled a lot during her early days. She started as a single mother with only 12 Dollars with her. With her never quitting attitude she went on to found her own company and is now a successful entrepreneur and motivational speaker.
She has inspired millions with her journey.
 She has around 95k followers on Twitter

70k followers on Instagram and more than

45 thousand likes and followers on Facebook.

Website motivatingthemasses.com (Personal Development)
Famous Books –  
No Matter What! 9 Steps to Living the Life You Love(2009) 
Abundance Now: Amplify Your Life & Achieve Prosperity Today(2015) 
Chicken Soup for the African-American Woman's Soul(2004)
Here are some of the famous Lisa Nichols quotes/sayings:
 Trust yourself and the divine in you. Know that all things are working together to support you living your best life. ―Lisa Nichols Quotes
"You are the designer of your destiny; you are the author of your story".―Lisa Nichols Quotes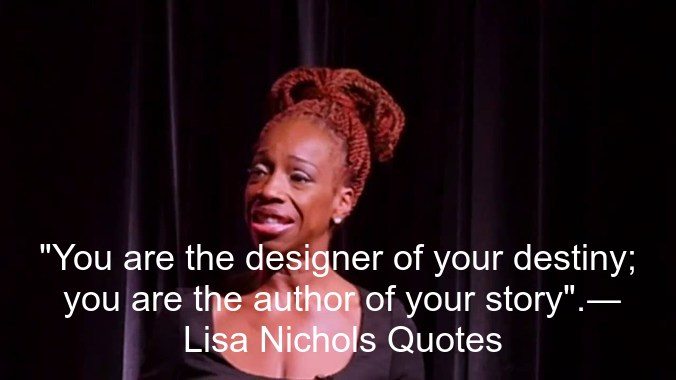 "By the mere fact that we have air in our body, the universe says you have the right to prosperity and abundance." ― Lisa Nichols Quotes
 "When your clarity meets your conviction and you apply an action to the equation, your world will begin to transform before your eyes." ―Lisa Nichols Quote
"Mostly, the world sees you the way you see yourself." ―Lisa Nichols Quotes
"The two most important days of your life are the day you are born, and the day you know why?" ―Lisa Nichols Quotes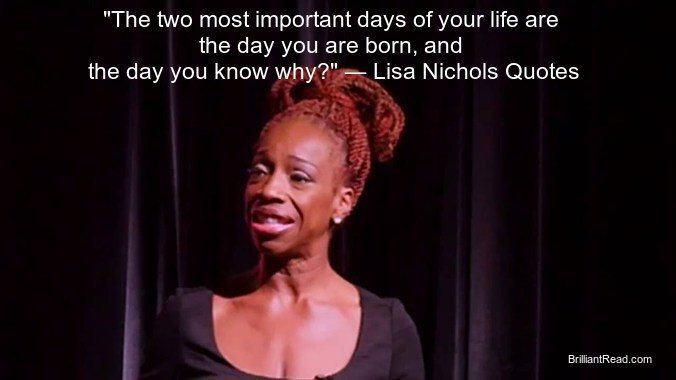 "I choose to see the greatness in you, and I choose to allow you to see the greatness in me." ― Quotes
"You deserve to be happy, you deserve to be joyful, you deserve to be celebrated. But in order to do that, you must first fall madly in love with yourself." ― Her Quotes
"Do you realize that your love, your peace, your joy, your bliss can be so powerful in you that it becomes contagious, and people just want to be around you and they don't even know why?" ―Lisa Nichols Quotes
"So often we take care of everybody and the whole time we're putting ourselves on the back burner. This is the season for you to 'do you' first."
"Sometimes you have to be willing to let go of something old to grab onto something new. You have to be willing to let a part of you die that you used to be comfortable with in order for another part of you to be born." ― Lisa Nichols Quotes
Subscribe to BrilliantRead.com to receive more articles.