David Goggins Quotes
Who is David Goggins?
David Goggins (Born 1975) – An ultramarathon runner, ultra-distance cyclist, triathlete, Retired Navy Seal, Motivational Speaker and World pull-up record holder. 
David Goggins has gone through many hardships in his life and not only did he overcome all of it but also served as a source of inspiration for everyone else to learn from.
Here are the inspirational David Goggins Quotes from his motivational speeches, interviews, and advice:
Everybody comes to a point in their life when they want to quit. But it's what you do at that moment that determines who you are." – David Goggins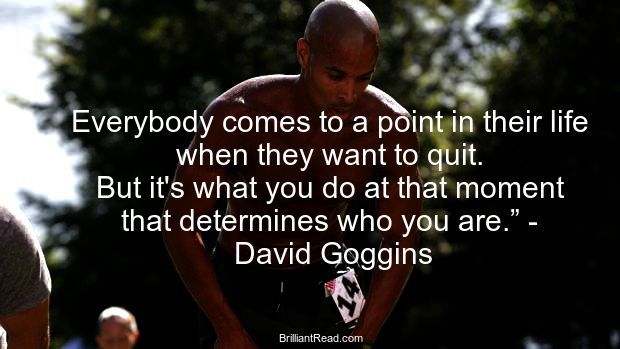 "We live in an external world. Everything, you have to see it, touch it. If you can for the rest of your life, live inside yourself – to find greatness, you have to go inside". – David Goggins Quotes
"Suffering is the true test of life"  – David Goggins Quotes
"When you think that you are done you're only 40% into what your body's capable of doing.that's just the limits that we put on ourselves." – David Goggins Quotes

"I hated jumping out of airplanes, I hated shooting guns, I hated the job as a Navy SEAL – but I did it because I wanted to change myself. Everything you do, I'm not really comfortable doing, but if you choose to go that route, to be a navy seal, you might as well go be the hardest motherf***er in the world." – David Goggins Quotes
"Go in the military. Get your ass kicked. Do things you hate to do" – David Goggins
"Be uncomfortable every f***ing day of your life." – David Goggins Quotes
It hurts, but that's all it does. The most difficult part of the training is training your mind. You build calluses on your feet to endure the road. You build calluses on your mind to endure the pain. There's only one way to do that. You have to get out there and run." – David Goggins
If you can see yourself doing something, you can do it. If you can't see yourself doing it, usually you can't achieve it." – David Goggins
I don't stop when I'm tired. I stop when I'm done" -David Goggins

"Having lived the life I've lived, and seeing the other side, not being afraid to attack what was in front of me has made me happy." " – David Goggins
"I tried to do so many things to fit in. But when you look in the mirror, that's the one person you can't lie to." – David Goggins Quotes

"How did I attack today? How did I attack yesterday?" -David Goggins Quotes
A failure is an option. It's what you do with the failure that makes you who you are. Our failures mold us. I have failed at several things in my life. What sets some of us apart, is that when we fail, we can't sleep at night. It haunts us until we have our time at redemption." – David Goggins
I'm different than most people…when I cross the finish line of a big race, I see that people are ecstatic, but I'm thinking about what I'm going to do tomorrow. It's as If my Journey is everlasting and there is no finish line" – David Goggins
Please share it with others and help them change their perspective towards life.
You may also want to subscribe to BrilliantRead.com to receive the daily dose of motivational updates and articles.