At BrilliantRead Media, we always strive to bring meaningful and powerful stories from India and around the world to empower and motivate our growing community. As part of this endeavour, we invited Himaja Vemula for an exclusive interview with us. Himaja is a Wellness Coach, Leader, Nutritionist and Influencer. Let's learn more about her incredible journey, background and advice for our growing community.
Excerpts from our exclusive interview with Himaja:
Could you please talk us through your background and your journey, please and how did you discover your passion as a 'Coach'?
I was born in Kurnool, AP on 15th Jan, 1987and brought up in Proddatur, AP. Was district second topper in 10th and State 4th Ranker in Intermediate.
Completed my B. tech in Computer Science and Engineering and MBA in distant mode. Worked as a banker for 12 years with one of the private sector banks. I was obese from childhood and was affected by diabetes post covid.
Have undergone medication for 2 months. But there was no improvement in my HBA1C levels. Already my father was diabetic since 30+ years and have seen him suffering with nervous weakness, high blood sugar levels, urinal infections and finally resulted in a diabetic ulcer, where doctors suggested removing the leg because the infection was spread into the leg bone, but for which father was not ready.
Multiple times leg was operated on to remove the re-growing ulcer. I didn't want to go into that stage , since I was still young and have to take care of my family and achieve many in life.
So I always felt like, why can't I go back to childhood just like a time machine, so that I can take proper care of myself. I was looking out for alternatives to reverse diabetes permanently and to reduce my overweight.
I was at 88 kg and suffering from PCOD, arthritis, thyroid as well and was aborted for the first time because of the thyroid. Then I remember coming across one of my friends FB page mentioning a testimonial that diabetes can be reversed in 4 months through diet. I have gone through that and approached my friend.
They have asked me for my complete details and have asked me to produce some blood test reports to analyse my body condition. Post diagnosis, I was suggested 4 months of customized diet and reversal of my deficiencies and was asked to stop using all medication for diabetes and PCOD from day 1 of the diet.
Where I have reduced my weight by 20 kg and reversed my diabetes, PCOD permanently. My thyronorm dosage also has come down from 175 mcg to 25 mcg.
I was very much happy to achieve this health transformation by working on the root cause of all my health issues and felt like it was a rebirth for me since the diet has helped me to transform my whole health and cellular level healing has happened. I was very much active, energetic.
My coach has tracked me throughout my entire diet period and helped me regularly and made changes to my diet as and when required, thus helping me to reduce 20 kg. I am very much thankful to my coaches and well-sense community for helping me in my health transformation. My health transformation has inspired me and felt like I need a coach for a lifetime to take care of my health, which is not possible practically.
Hence, I have approached my coach to help me to learn about nutrition and wellness so that I can take care of myself and my family for a lifetime. With my coach's support and help, have successfully completed my training and diploma in nutrition and now I am a certified nutritionist and wellness coach.
I have helped my father and saved his leg from disastrous condition to a stage where removal of the leg is not required and his ulcers have come down. My mom and husband reversed their diabetes and my brothers and sister have reduced their overweight and re-versed pre-diabetic condition.
These journeys have inspired me to help people around me as well as to reverse their health issues and hence I have started doing as a wellness coach part-time. It will help many people who were not able to achieve their dreams and goals due to health issues, as like me.
It really feels happy when we receive Blessings from people just within a week's time of starting their transformation and to receive complete gratitude after their transformation. Helping people across teg globe is really miraculous.

How do you manage to keep going despite the challenges? What drives you?
I had a burning desire to prove myself and my talents from childhood. Whenever I visit temples or in my free time, I used to ask God and myself/universe what's the purpose of my life, why I was born. I always have ill health and childhood obesity and sickness often.
I am not able to achieve anything in life due to illness and most of the time is going to sleep., almost 12 years a day, stage fear, reserved., very dull and lack of energy always, not playing with friends and always being seated. I have transformed completely and can see 360-degree transformation in health and mindset in myself and everyone in the world should enjoy the same.
Of course, I can do it only if I am a wellness coach. Well sense has given me the right platform by transforming my health, making me active, reversing all my issues, I understood the concepts, basic science, body functioning mechanism, and genes have nothing to do with it.
All happens because of our food and lifestyle, proper nutrition, change of which can obviously do miracles in all others lives, if it has done the same for me.
Now I realized my purpose in life- To provide good health to society and in turn helping them to achieve their dreams and goals, create self-identity, become a celebrity wellness coach by helping people across the globe and reach out more people through my website www.himajas.com. My family should never feel a lack of health, wealth, happiness in their lives.
Who do you believe has been the biggest source of motivation in your daily life?
My biggest source of motivation to grow in my daily life are my coaches Murthy and Alekya, who are the co-founders of the Wellsense community and inventors for a well sense diet.
Tireless work done by them as a couple to serve society with good health, always being available to clients 24*7, available to their team of wellness coaches 24*7 in teaching and guiding us.
Happy and very proud to be a part of the fastest-growing team in the Wellsense community. They are a constant source of support, guidance to us.
They both are none other than my parents who have given me rebirth by always being with me in each and every step in my personal and as well as entrepreneurship life. There was complete support from my mom, husband and kids as well.
My clients, who are having amazing transformations are the biggest source of inspiration when they permanently reverse their lifestyle disorders and couples getting conceived, who would have undergone various IVF, IUI treatments, despite their failure, did diet with us and got conceived in 4 months through diet, the blessings they give, the gratitude they show.

In your opinion, what are the keys to success?
There are a few:
> Always be positive and talk positive
> Ask, believe and receive, Write what you want, Show gratitude for the things already that you have in your life
> Always have one such person in your life with whom you believe completely and share everything, which helps you for your growth. In my life, my coaches are such persons. When our coach is our best friend, definitely miracles happen in our life.
> Believe in what you do
> Consistency, focus, dedication, commitment
> Dreams, goals, vision and mission in our life should be strong
> Always affirm positively and visualise what you want
> Revisit your goals often
> Never change your goals, rather change the plan.
> Keep motivating yourself by reading books, listening to stories/ videos of great people in your field to achieve success
> Implement all your learnings
> At least a 1 % improvement a day will do
> Serve people and earn through serving
> Taking care of clients as your kids, track and guide them
> Learning is a never-ending process, Keep learning daily
> Always be available to clients and team members
> Self-love
> Take responsibility
> Always be resourceful and curious in learning and knowing new things related to your field. Always be available for your mentors and coaches as well.
What advice would you give to our readers?
Always in your health transformation journey, Have a wellness coach. Diet differs from person to person and a coach is the best person to guide you as per your body condition, without going into side effects.
A wellness coach helps you to analyse your body condition, root cause of your problem, deficiencies in your body and hence work out on a holistic lifestyle transformation. Reversal of health issues is just a by-product of you becoming healthy.
Never do any exercises on your own, without being recommended by your coach, which may increase cortisol stress hormone levels or lead to arthritis because of being overweight.
Exercise never help for weight loss. They help to maintain fitness after reaching the ideal weight. Workout on holistic transformation always. Never follow any diet blindly if someone says or if you come across social media anywhere, without proper analysis of your body condition.
Never exercise/do workouts in over which will lead to oxidative stress in the body and ultimately may result to death, as is happening with many celebrities nowadays.
Last but not least, what about your journey makes it satisfying/exciting?
Getting great feedback from those who have been inspired and transformed through my diet program, coaching sessions/programs amps up my energy to deliver more value to them.
Seeing shifts in them and in their journey makes it satisfying because I see their success as my success and their breakthroughs as mine.
I have been awarded by the Wellsense community for helping 1000s of people every quarter as recognition of my contribution towards the nation's health transformation through the work I do in wellness coaching.
Getting conferred recognition for the work I do makes my work satisfying. It is less about the recognition and more because it serves as a reminder from the Universe that I am on the right path.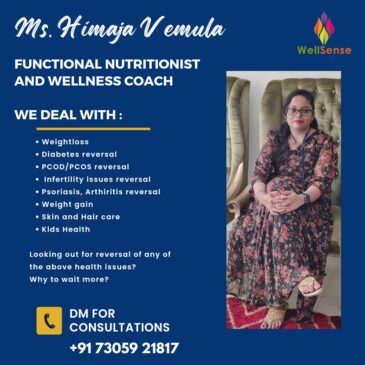 Follow Himaja At: 
---
BrilliantRead is committed to bringing stories from the startup ecosystem, stories that reshape our perspective, add value to our community and be a constant source of motivation not just for our community but also for the whole ecosystem of entrepreneurs and aspiring individuals.
Note: If you have a similar story to share with our audience and would like to be featured on our online magazine, then please write to us at [email protected], we will review your story and extend an invitation to feature if it is worth publishing.